A chat with FITF royality: Milano Imai
Milano Imai can be considered the 'Winx' of the Fashion in the Field world. Her maiden appearance was at the Melbourne Cup seven years ago (talk about jumping into the deep end!) and she has been hooked ever since. We sat down with Milano to chat all things raceday fashion:
How did you get involved in Fashion in the Field?


I discovered FOTF by chance. Seven years ago, I was working for a boutique who was sponsoring Fashions on the Field prizes. My manager asked if I would like to go along to hand out some flyers and do some promo… excited for a day off work, I went along. It was the first time I'd seen a FOTF competition and I was blown away by the stunning women and their beautiful outfits and hats.
A few months later for Melbourne Cup, on a whim, I put together what I thought was a racing outfit. I visited my first hat store, bought a fascinator and added a few things to it. To my amazement, I actually won the FOTF! I've been hooked ever since!
Melbourne Cup Day 2011 wearing a Kitten D'Amour set and the first hat I ever embellished.
What do you love most about raceday fashion?
I love that you get to go on a journey, planning an entire outfit. You have to think about everything, from your millinery right down to the toenail polish. Some outfits take weeks or even months to plan, especially if you are having a bespoke dress made. I find the whole process enjoyable. There's a lot of problem-solving, searching high and low for the right accessories and styling everything so it flows. To have it come together on the day and be able to showcase your style is so rewarding and such a fabulous creative outlet!!


Also, there are not enough opportunities to wear hats, and I'm a big lover of millinery so the races are definitely the fashion highlight of my year.
Where do you find inspiration for your looks?
I have numerous mood boards on Pinterest with different inspirational pics for different race days.
Outfit inspiration can come from all over the place. I can find a beautiful fabric and an idea for a dress with a particular silhouette will pop into my mind. I notice different colour combinations in my daily life that I love and that might spark an outfit idea. And I scroll through copious amounts of social media and Pinterest, follow my favourite brands on there and browse a lot of online shopping websites.
What trends are you currently loving (and are there any you're not overly fond of!)?


I am loving big voluminous silhouettes, whether it be fullness in a skirt or a pronounced feature sleeve on a dress.
And I have to say pleats! I have just had some fabric pleated by one of the last handful of artisan pleaters left in the world- Specialty Pleaters in Melbourne. The whole process was amazing to see! It's a true art form, and, sadly, one that is dying. I feel so lucky to have a part of it in one of my race day dresses.
There aren't really any trends I don't like, as I feel like anything (done right) can be beautiful. I am, however, very interested to see how the shorter hemlines perform in FOTF this year as I'm sure some stunning fresh designs will arise in this new trend.
What are your favourite FITF outfits to date?


I love all my custom-made dresses. A lot of love and time goes into each and every one of them! I actually love the challenge of having a dress made, even though there are always plenty of hiccups along the way. You need to think up solutions and think outside the box, push through the mini melt downs and not let anything dampen your passion. It makes you appreciate the work and your outfit so much more at the end!!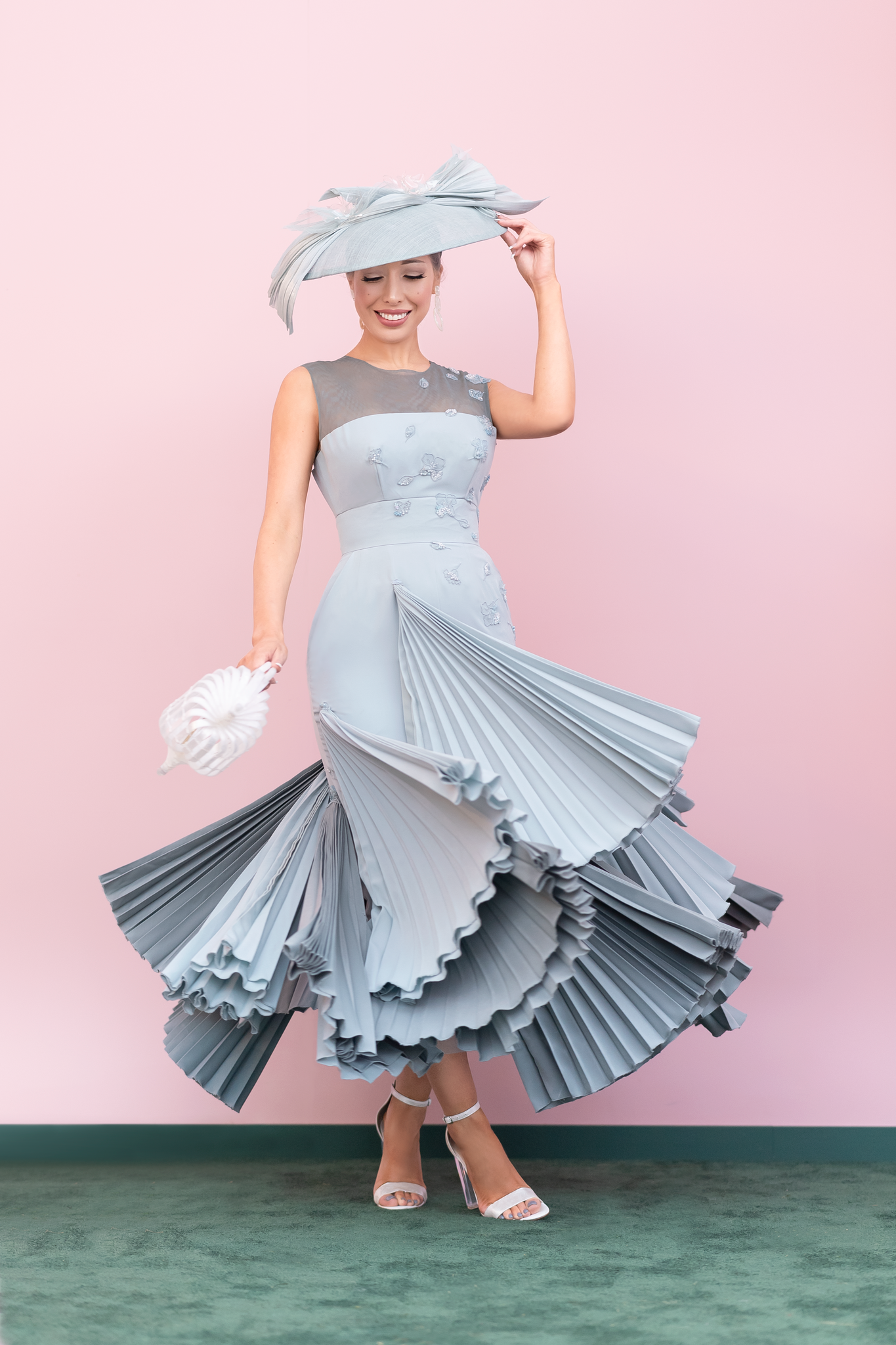 by Wendell Teodoro, Melbourne Cup Day 2018 and Derby Day 2018.
So far though, my dove blue pleated dress made by Andrew Semple and myself, takes the cake. We had a lot of fun making this outfit, even going to the effort of baking the pleats in the oven! I did a whole lot of hand painting to get the lace embellishments just the right colour blue. Hard work but well worth it.
I also love my Derby Day outfit from last year, as it was the first time I won a sash on Derby Day at Flemington Racecourse. I just love how this look came together with the ruffled white shirt paired with my strapless dress and the most spectacular hat, made by Louise Macdonald.
Entering FITF can seem like a big task for many. Where should you start?


There is a lot to consider when entering FOTF. Do you wear a store-bought dress or will you have one made? Which milliner should you choose? What style of dress and hat? What colour will you wear? How will you style it? There are a lot of decisions to make.


The best way to start is to write down some ideas and make sketches of what you want. You can browse Pinterest for inspiration, read fashion blogs, browse through new collections from your favourite stores and scroll through social media.

With an idea in your mind, make a start. Every small step works towards your overall outfit, and if you have to make some changes along the way, then embrace them.


Once you find one or two pieces of an outfit that you've fallen in love with, the rest is about finding the missing puzzle pieces. Whether it be a millinery style to suit or a certain coloured shoe or accessory, finishing off the look is just as fun as the main event.
What are your three must-have items for a raceday?


Comfy heels for after the FOTF event when your feet start to ache. Nothing ruins a day faster than sore feet! My midi length clear trench coat in case it rains!- necessary in Melbourne's unpredictable weather!! It also blocks out the wind ;)


And portable phone charger- I'm always filming a lot of Instagram live feeds and my phone dies so quickly! I hate to miss out on filming all the action for my viewers at home, so I always carry a portable charger, or three!
No good raceday ensemble is complete without...?


A fabulous piece of millinery!! Nothing tops off a fabulous frock better than a show stopping hat! To help ladies find the perfect hat, I created Millinery Market (
www.millinerymarket.com
) which has over 1,600 beautiful, handcrafted pieces available to rent or buy from talented milliners and race enthusiasts. You can filter the hats by colour or hat shape to find something that will perfect your outfit.
If you could give one 'golden rule' for those looking to enter a FITF competition, what would it be?


Whether you win or lose, remember it's not about the competition, it's about the chance to showcase your work, having your moment on stage and enjoying yourself! FOTF is a great community with lots of new friends to be made! Make the most of your day, hang around, have a drink and watch some races!!