Trainers
Jamie Richards
Matamata
Licence Type: Class A (Trainer)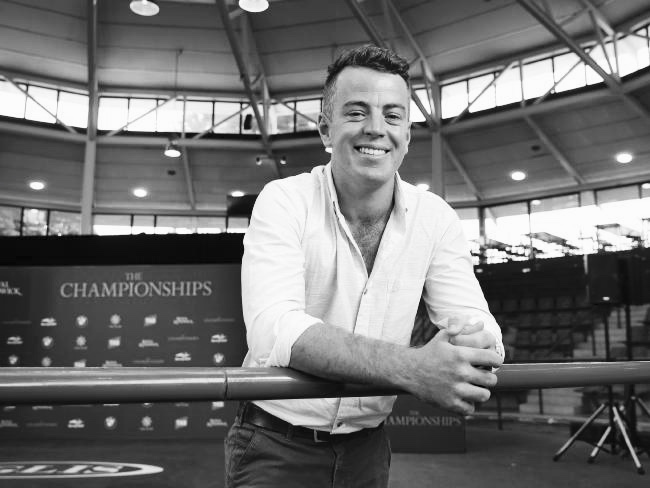 | | |
| --- | --- |
| Horses in training | 189 |
| Current Premiership place (Flat) | 1st |
| Current Premiership place (Jumping) | 5th |
| Starts since last win | 3 |
| | |
| --- | --- |
| Fresh | 269:59:45:139 |
| 1st Start | 327:66:44:146 |
Stats Overview
| | Wins | Stakes | Starts | G&L | SR |
| --- | --- | --- | --- | --- | --- |
| Career | 693 | $26,820,989 | 3757 | | |
| G & L | 127 | $19,066,113 | 558 | | |
| 2021/22 | 71 | $4,280,262 | 440 | 19 | 6.20 |
| 2020/21 | 160 | $5,969,646 | 790 | 36 | 4.94 |
| 2019/20 | 101 | $3,825,283 | 497 | 17 | 4.92 |
| 2018/19 | 98 | $3,859,662 | 534 | 17 | 5.45 |
| 2017/18 | 81 | $3,691,118 | 422 | 17 | 5.21 |
| 2016/17 | 74 | $2,961,969 | 474 | 10 | 6.41 |
| 2015/16 | 104 | $2,156,100 | 553 | 10 | 5.32 |
| 2014/15 | 4 | $76,950 | 47 | 1 | 11.75 |
View full detail ›
One of the bright young stars of the New Zealand racing industry, Jamie has a Bachelor of Commerce in Management and Accounting and a Diploma in Marketing from Otago University, was selected for the Sunline International Management Scholarship to undertake stud and stable experience in Europe and the USA, and had an upbringing that instilled equine knowledge well beyond his years – the son of Paul Richards (1000 wins club as a rider and subsequent trainer) and mother Leanne Richards (racing administrator).
A modern thinker in the training ranks, Jamie has shown a flare for his chosen career. He has a thorough understanding of form and the handicapping system, which sees him place horses to advantage. A deep pedigree knowledge and judge of conformation has made him instrumental in the selection of young horses for purchase, and keeping abreast of the latest veterinarian practices, feeding procedures, and training methods, in order to optimize potential in horses.
Jamie has shown the ability to run a sizeable number of both horses and staff, with terrific communication systems in place for owners and a zest for success that is certainly standing by him.
Q&A
1. How did you get involved in racing?
Family as dad was a jockey and trainer
2. Greatest dislikes?
Tardiness and cutting corners
3. Greatest place you've visited?
Hawaii
4. What do you enjoy outside racing?
Relaxing
5. Best thing about racing?
The thrill of winning
6. Favourite horse(s)?
Xtravagant, Gingernuts, Melody Belle and Avantage have all been very important in getting my career going, Probabeel has untapped potential.
7. Best race you've seen?
Frankel winning his last race, as well as Black Cavier winning at Royal Ascot.
8. Biggest thrill in racing?
Winning the Rosehill Guineas with Gingernuts – first Group 1 winner in Australia
9. What changes would you like to see in racing?
Stake money increases, return to owners will drive new investment
10. Most admired person in racing?
David Ellis
11. Best advice you've been given?
The harder you work the luckier you become
12. Do you have a policy regarding owners visits?
Owners are always welcome - 7 days a week.
13. What forms of communication do you use to report on a horse in Training & Racing?
· Emails including; jump outs, pre and post trial information, pre and post race information, photos and video footage, general updates
· Website (www.teakauracing.com)
· Social media outlets
· Phone calls and text message when required
· General monthly newsletters
· Accounts are sent by email or mail – at the owners preference
14. Are you an Authorised Syndicator?
Yes
Below is a few testimonials from owners:
"You get such great information about not only your horses but the stable in general from Jamie and Te Akau. The updates are a great read, and the whole experience has just been so welcoming" Gus Weston
"Te Akau is a great way to get involved with racing a horse or horses because of the syndicate scheme, where you can take whatever percentage you wish. Meeting other owners at open days, race-meetings and on the Singapore trips has been a bonus. The communication from Jamie, Karyn and David and the team is very good and we are kept up to date with what is going on with our horses and others in the stable. We are always made to feel welcome when we visit the stables in Matamata, or the farm at Te Akau" Pat & Marilyn Cadle
"Jamie and Te Akau run a very professional organisation. David (Ellis) and Karyn (Fenton-Ellis) are very complementary in the way they operate. I like the communication side; they are very good at it and the Jamie also provide very efficient communication. We get pre race information and reports afterwards, so we know where we are" Barry Old
Nominations
Hawke's Bay RI @ Hastings
Thu 27 Jan
| Race | Horse | Jockey |
| --- | --- | --- |
| R2 | Amalfi Prince | |
| R4 | Nossenko | |
| R4 | Sternland | |
| R7 | Nossenko | |
| R7 | Sternland | |
Wellington RC @ Trentham
Sat 29 Jan
| Race | Horse | Jockey |
| --- | --- | --- |
| R1 | Amarelinha | |
| R1 | Brando | |
| R1 | Mai Tai | |
| R1 | Prise De Fer | |
| R2 | Leaderboard | |
Waikato RC @ Te Rapa
Sat 12 Feb
| Race | Horse | Jockey |
| --- | --- | --- |
| R1 | Mai Tai | |
| R1 | The Perfect Pink | |
Auckland Thoroughbred Racing @ Ellerslie
Sat 5 Mar
| Race | Horse | Jockey |
| --- | --- | --- |
| R1 | Amalfi Prince | |
| R1 | Fierce Flight | |
| R1 | On The Bubbles | |
| R1 | The Perfect Pink | |
| R1 | Wairau Cove | |
Auckland Thoroughbred Racing @ Ellerslie
Sun 13 Mar
| Race | Horse | Jockey |
| --- | --- | --- |
| R1 | Te Akau Caliburn | |
Wellington RC @ Trentham
Sat 19 Mar
| Race | Horse | Jockey |
| --- | --- | --- |
| R1 | Belle En Rouge | |
| R1 | Ifyourample | |
| R1 | Illicit Miss | |
| R1 | Invincibeel | |
| R1 | Leica Star | |
| R1 | Nossenko | |
| R1 | Outfit | |
| R1 | Pin Me Up | |
| R1 | Self Obsession | |
| R1 | The Perfect Pink | |
| R1 | Trieste | |
| R2 | Amalfi Prince | |
| R2 | Belle En Rouge | |
| R2 | Espionage | |
| R2 | I Wish I Win | |
| R2 | Ifyourample | |
| R2 | Imperatriz | |
| R2 | Invincibeel | |
| R2 | Leica Star | |
| R2 | Millefiori | |
| R2 | Miss Lovato | |
| R2 | Nossenko | |
| R2 | On The Bubbles | |
| R2 | Outfit | |
| R2 | Pin Me Up | |
| R2 | Polly Plum | |
| R2 | Pure Imagination | |
| R2 | Savasilk | |
| R2 | Shepherd's Delight | |
| R2 | Sophisticardo | |
| R2 | The Perfect Pink | |
| R2 | Tuahine | |
| R2 | Wairau Cove | |
| R2 | Zeitaku | |
Fields
Matamata RC @ Matamata
Wed 26 Jan
| Race | Horse | Jockey |
| --- | --- | --- |
| R1 | Amalfi Prince | Joe Kamaruddin |
| R1 | Illicit Miss | |
| R1 | Madame Moet | Opie Bosson |
| R2 | Fierce Flight | Opie Bosson |
| R2 | Illicit Miss | |
| R2 | La Flora Belle | Sam Weatherley |
| R3 | Nossenko | Michael McNab |
| R3 | Savasilk | Joe Kamaruddin |
| R3 | Weneedashock | Opie Bosson |
| R5 | Flat Track Bully | Opie Bosson |
| R5 | Top Note | Sam Weatherley |
| R6 | A Little Bit Bossy | Niranjan Parmar |
| R6 | Deceptive | Opie Bosson |
| R6 | Midnight Special | Michael McNab |
| R7 | Highborn | Joe Kamaruddin |
| R8 | Exaltation | Joe Kamaruddin |
| R9 | Illicit Miss | Joe Kamaruddin |