Clubs & Courses
Ellerslie
Clubs & Courses Index
Clubs
The following clubs race at Ellerslie:
Course
Ellerslie
Ellerslie Racecourse is the home of the Auckland Racing Club and the Pakuranga Hunt Club and is located in a central Auckland location that is about a 10 minute drive from the CBD.
The course has a world renowned reputation for the beauty of its well-maintained, established grounds, as well as its famous steeplechase track.
About a 20 minute drive from Auckland Airport, the racecourse is well set-up to visitors with an on-site hotel, along with easy access to motorways, railway stations and bus stops.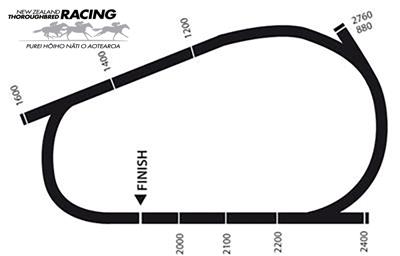 Course Info
Open/close
What to wear:
The dress code for the Ascot (Member's) Grandstand is smart casual. On feature days a high standard of dress is expected. Fashion events and competitions are scheduled at Ellerslie throughout the summer racing calendar.
Hospitality:
Ellerslie offers an extensive and varied range of corporate and public hospitality options, from reserved dining or grandstand boxes to marquees or private function rooms. To enquire about hospitality options on a particular raceday call 09 520 6329 or visit
www.ellerslie.co.nz
Dining:
There is also a wide range of café and casual dining options available in both the Ellerslie and Ascot Grandstands.
Ellerslie Event Centre:
The recently refurbished Event Centre is available for hire all year round on non-racedays. There are 26 different rooms available that offer a unique and versatile setting for both small intimate gatherings to some of this country's biggest indoor and outdoor events. The Event Centre also offers full catering, service and AV requirements.
Ellerslie Stand:
The Newmarket Room (Ground Floor) and Pakuranga Hunt Lounge (2nd Floor) offer café style dining options and easy access to the main public seating and lawn areas. The Chairman's Club (2nd Floor) provides a restaurant atmosphere with buffet style dining and spectacular views of the track. The Chairman's Club is available on all Premier Racedays and selected non-feature racedays, by pre-booking only. Contact the Auckland Racing Club on 09 524 4069 for all enquiries regarding the Chairman's Club.
Ascot Stand (Members Stand):
The New Zealand Room on the 5th floor provides a spectacular, panoramic view of the entire racecourse with café style food and both indoor and outdoor casual seating. Piccolo's Bar on the ground floor provides easy access to the Parade Ring and grandstand seating with casual café style dining including gourmet hamburgers. Access to the Ascot Stand may be purchased on raceday. Pricing varies between $10-$50 depending on the raceday classification.
For more information or to make a booking email
[email protected]
.
FASTEST TIMES AT ELLERSLIE
Distance
Time
Horse
Year
Age
Kg
880m
48
Catarmarca
1988
2
53
1100m
01:02.8
Castles Burning
2010
6
54
1200m
01:07.7
Diamond Lover
1987
4
51.75
1300m
01:14.4
High Regards
1985
6
53
1400m
01:20.6
My Quota
1996
5
54.5
1500m
01:27.4
Dear John
1992
5
53
1600m
01:32.1
Corndale
1993
5
56
2000m
01:59.9
Tidal Light
1987
3
50.5
2100m
02:07.0
Kotare Chief
1987
9
57
2200m
02:13.2
Miltak
1993
4
51.5
2400m
02:24.8
So Casual
1998
3
55.5
3200m
03:15.7
Sea Swift
1988
6
50.25
All meetings
Open/close
| Date | Club | Meeting Name/Type |
| --- | --- | --- |
| Sat 22 Jan 2022 | Auckland Thoroughbred Racing | Iconic |
| Sun 30 Jan 2022 | Auckland Thoroughbred Racing | Feature |
| Sat 19 Feb 2022 | Auckland Thoroughbred Racing | Feature |
| Sat 5 Mar 2022 | Auckland Thoroughbred Racing | Iconic |
| Sun 13 Mar 2022 | Auckland Thoroughbred Racing | Iconic |
| Sat 2 Apr 2022 | Avondale JC | Feature |
Featured meeting
Auckland Cup Week®
Auckland Cup Week® showcases the ultimate in New Zealand thoroughbred racing, racewear fashion & hospitality and is New Zealand's richest sporting event. Held on two consecutive Saturdays that typically fall in late February and/or early March, the event features some of New Zealand's most prestigious races including the Group 1 Vodafone New Zealand Derby and Group 1 Barfoot & Thompson Auckland Cup. Combined with fabulous fashions including the national fashions in the field final – The Ned Prix de Fashion, exquisite hospitality options, all-day entertainment for families, social groups and more, Auckland Cup Week® is a celebration of the best of what thoroughbred racing in New Zealand has to offer. Visit www.ellerslie.co.nz/auckland-cup-week for more information.