Clubs & Courses
Awapuni
Clubs & Courses Index
Clubs
The following clubs race at Awapuni:
Course
Awapuni
Awapuni racecourse, located in Palmerston North, is the home to the Feilding, Manawatu, Marton, and Rangitikei Racing Clubs. Set amongst beautiful park-like grounds is the recent $8.7million construction of the Awapuni multi-purpose Function Centre. The 1800m Awapuni Track means all horses get their chance with a 400 metre home straight giving everyone a sight as they head home for victory.

Admission: Course and Stand entry is free. An official programme costs $3
Parking: General parking is free and is accessed from Ash or Elm Street. Members' Parking can be accessed from Elm Street, off Rosebank Road.
Catering facilties: There is a range of cafe style food.
Eftpos: Facilities are available from the Secretary's Office, ground floor.
Sponsorship: You can sponsor at Awapuni from $500.00 (for race naming rights) and upwards. Sponsorships are available at all meetings.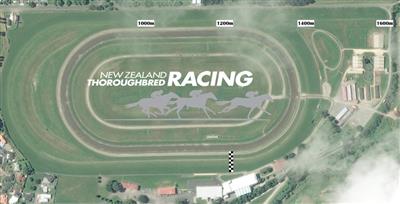 Course Info
Open/close
Membership:

Race Premier Membership $150
RACE Group Full Membership $100
Youth Membership $75
The Awapuni Lounge situated on the first floor of the members stand is for our valued members only. Members will also have opportunity to reserve a table at a discount to advertised rates on those days that the Silks Lounge is available.
Premier, Gold & Young Members will have exclusive access to the Stewards Room on Manawatu Cup Day and Courtesy Ford Sires Produce Stakes Day and to the Wellington Floor on Wellington Cup Day (Desert Gold Restaurant & Parade Lounge patrons will also be permitted).
Hospitality packages are on offer at most meetings throughout the year. This is an opportunity to entertain guests, clients, staff or friends in style, with first class facilities and uninterrupted views of the course.
The package will include:
Buffet luncheon
Cash bar or an all-inclusive beverage package
Complimentary tea and coffee
Racebook & pen per guest
Private tote facilities
For more information go to:
www.awapuniracing.co.nz
All meetings
Open/close
| Date | Club | Meeting Name/Type |
| --- | --- | --- |
| Thu 13 Oct 2022 | Manawatu RC | Industry |
| Sat 29 Oct 2022 | Feilding JC | Feature |
| Fri 11 Nov 2022 | Manawatu RC | Feature |
| Sat 19 Nov 2022 | Rangitikei RC | Feature |
| Sat 10 Dec 2022 | Manawatu RC | Feature |
| Sat 17 Dec 2022 | Manawatu RC | Feature |
| Mon 26 Dec 2022 | Manawatu RC | Feature |
| Sat 7 Jan 2023 | Marton JC | Feature |
| Fri 10 Feb 2023 | Manawatu RC | Feature |
| Fri 3 Mar 2023 | Marton JC | Industry |
| Sat 1 Apr 2023 | Manawatu RC | Iconic |
| Fri 14 Apr 2023 | Manawatu RC | Feature |
| Sun 23 Apr 2023 | Feilding JC | Industry |
| Sat 20 May 2023 | Rangitikei RC | Feature |
| Sat 10 Jun 2023 | Manawatu RC | Feature |
| Sat 8 Jul 2023 | Marton JC | Feature |