Clubs & Courses
Trentham
Clubs & Courses Index
Clubs
The following clubs race at Trentham:
Course
Trentham
The track design is widely acknowledged as one of the best in Australasia, a fact demonstrated by the amount of world records broken on it over the years. Home to Wellington Racing Club and staging a host of top races, Trentham remains as popular today as it was one hundred years ago with racegoers putting on their finest and enjoying the thrill of some quality racing.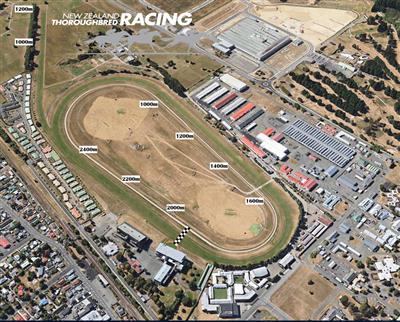 Course Info
Open/close
Functions/Hospitality: You can book Trentham for weddings, conferences, meetings, functions and balls. Take your pick from 50 hectares of lawns and landmark buildings. For further info, email
[email protected]
TRENTHAM TRACK RECORDS
Distance
Horse
Date
Time
800m
Chantilly Rose [2yo]
Oct-97
00:45.7
900m
In Full Flight [2yo]
Nov-97
00:51.4
1000m
Super Easy [2yo]
Dec-10
56.2
1000m
Diamond Like
Mar-03
00:55.2
1200m
Our Maizcay [2yo]
Mar-95
01:07.4
1200m
Bawalaksana
Jan-99
1:06.51*
1400m
Elton [2yo]
Mar-76
01:23.3
1400m
Star Satire
Feb-01
01:21.4
1500m
Miss Is Brash
Mar-03
01:28.5
1600m
McGinty
Jan-83
01:33.0
2000m
Bakerson
Mar-83
02:01.3
2100m
Yes Indeed
Jan-95
02:07.4
2200m
Caruba
Jan-78
02:12.3
2400m
Interval
Jan-97
02:25.5
2500m
Freequent
Mar-95
2:32.41*
2800m
Lumley Lass
Mar-77
02:54.0
3200m
Daria's Fun
Jan-88
03:15.6
Hurdle
2800
Aircon
Oct-73
03:05.0
2900
Any Questions
Apr-98
03:13.4
3400
Ricki Roo
Jul-02
03:31.3
3600
Daylight
Jul-74
04:54.7
Steeplechase
4000
Free Park
May-84
04:46.5
4800
Artic Heights
Jul-77
06:16.5
5500
Bodle
Jul-01
06:58.2
* National Record
All meetings
Open/close
| Date | Club | Meeting Name/Type |
| --- | --- | --- |
| Sat 4 Dec 2021 | Wellington RC | Premier |
| Sat 15 Jan 2022 | Wellington RC | Premier |
| Sat 22 Jan 2022 | Wellington RC | Feature |
| Sat 29 Jan 2022 | Wellington RC | Iconic |
| Sat 12 Mar 2022 | Wellington RC | Feature |
| Sat 19 Mar 2022 | Wellington RC | Premier |
| Sat 28 May 2022 | Wellington RC | Feature |
| Sat 18 Jun 2022 | Wellington RC | Feature |
| Sat 16 Jul 2022 | Wellington RC | Feature |
Featured meeting
Wellington Cup Carnival
Run over three Saturdays in the height of summer, Wellington Cup Carnival is the greatest showcase of Thoroughbred Racing. From racing, to fashion, fine hospitality and live music there's something for everyone and the atmosphere is electric!
Classic Day kicks of the carnival with a day of sophisticated indulgence and one for all true racegoers. This landmark day features the Group 1, Levin Classic. The official flower of the day is the Cornflower.
The jewel of the racing calendar, the running of the Wellington Cup is accompanied by Group 1 racing making Wellington Cup Day the ultimate for racing purists, socialites and those just looking to enjoy Wellingtons biggest summer celebration – there's no party like it!
Family Day swaps fascinators for sunhats and heels for jandals. With loads of free activities for the kids, it's the perfect opportunity for adults to sit back, relax on the Trentham Lawn and have a flutter.
Christmas at the Races
Whether your organising your end of year work party or get together with friends there's a huge array of options to celebrate the festive season in style. With the running of the Group 1, Captain Cook Stakes amongst the festivities it's a thrilling day all round.
NZ Oaks Day
The Champagne Turf holds Wellingtons biggest 'racing day' with 5 Black Types on the cards. Headlined by New Zealand's finest fillies gracing the track for 'The Oaks', this March raceday is a firm favourite for the purists. Timing in with St Patrick's and traditionally Ladies Day there's plenty more than racing to make this one of sporting's finest!
Check out www.wellingtonracing.co.nz for details