Clubs & Courses
Tauranga
Clubs & Courses Index
Clubs
The following clubs race at Tauranga:
Course
Tauranga
Racing Tauranga hosts 12 thoroughbred race meetings each year on the picturesque inner-city Tauranga Racecourse.
The Bayleys International Raceday in March is the Club's premier day and features the Ultimate Mazda Japan Trophy (G.2) race and the club will be celebrating the 50th running of this iconic race in 2021. The long-running Fashions in the Fields competition is also a drawcard for this event.
Racing Tauranga is home to a number of local trainers with on-site stabling and others travelling to use the training facilities six mornings a week.
The licensed venue has fantastic facilities available for hire, with a range of rooms to suit groups from 20 to 350 - perfect for weddings, birthdays, training days, board meetings and conferences. This versatile location also offers plenty of outdoor space for events.
On-site catering is available through top class caterers Food 101.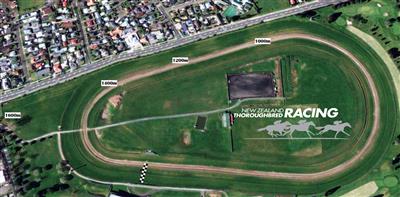 Contact details
Open/close
1383 Cameron Road
Greerton, 3112
General Manager: Louise Dean
Sponsorship & Events: Andrew Love
Track Manager: Craig Settle
Course Info
Open/close
TAURANGA TRACK RECORDS
970 metres
0.54.04
Arose
27.02.93
1100 metres
1.06.10
River Belle
29.12.73
1200 metres
1.08.08
Kasman
31.03.01
1300 metres
1.14.32
Lord Phoenix
13.03.94
1400 metres
1.20.50
Tall Poppy
17.02.99
1600 metres
1.33.82
Society Beau
13.04.02
2100 metres
2.06.25
She Might Hula
5.12.87
2.06.25
Secret Ace
26.03.88
2170 metres
2.10.11
Fatal
5.04.97
Hurdles 2800 metres
3.04.30
Bold Sam
19.09.81
Hurdles 2900 metres
3.22.40
Diamondsareforever
23.6.07
Hurdles 3000 metres
3.28.80
Tossa
11.08.73
Steeples 3600 metres
4.18.49
All Blessed
7.09.96
Steeples 4400 metres
5.12.40
Specialist
27.10.73
All meetings
Open/close
| Date | Club | Meeting Name/Type |
| --- | --- | --- |
| Sat 26 Jun 2021 | Racing Tauranga | Feature |
| Sun 26 Sep 2021 | Racing Tauranga | Industry |
| Wed 20 Oct 2021 | Racing Tauranga | Industry |
| Sat 13 Nov 2021 | Racing Tauranga | Feature |
| Fri 10 Dec 2021 | Racing Tauranga | Industry |
| Sun 2 Jan 2022 | Racing Tauranga | Industry |
| Fri 14 Jan 2022 | Racing Tauranga | Feature |
| Sun 6 Feb 2022 | Racing Tauranga | Feature |
| Sat 19 Mar 2022 | Racing Tauranga | Feature |
| Sat 26 Mar 2022 | Racing Tauranga | Feature |
| Sat 25 Jun 2022 | Racing Tauranga | Feature |