Clubs & Courses
Ruakaka
Clubs & Courses Index
Clubs
The following clubs race at Ruakaka:
Course
Ruakaka
Ruakaka racecourse is home to Whangarei Racing Club and boasts expansive ocean views and hosts nine meetings per season. The racing surface has a well-earned reputation as New Zealand's finest natural 'all weather' track. The reliability of the racing surface makes Ruakaka popular with trainers outside the area who base themselves here during the winter months. Direct walking access to the beautiful beach to train on makes the racecourse unique, hence its logo: "Where the turf meets the surf!"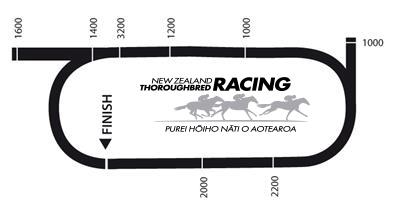 Course Info
Open/close
Admission: Entry is free to the course (except for the January & September meetings when a minimal fee is charged), free parking and free admission to the grandstands.

Facilities: Various food venues operate on race day and numerous licensed bars. EFTPOS available at the office.

Owners can collect race book and complimentary drink voucher from the race day office. For yard/box bookings contact the National Racing Bureau 0508 722 464. For other enquiries phone Rebecca Swords T: 09 432 7249.
All meetings
Open/close
| Date | Club | Meeting Name/Type |
| --- | --- | --- |
| Sat 10 Jun 2023 | Whangarei RC | Feature |
| Sat 1 Jul 2023 | Whangarei RC | Feature |
| Sat 15 Jul 2023 | Whangarei RC | Feature |
| Sat 5 Aug 2023 | Whangarei RC | Feature |
| Sat 19 Aug 2023 | Whangarei RC | Feature |
| Sat 9 Sep 2023 | Whangarei RC | Feature |
| Fri 5 Jan 2024 | Whangarei RC | Other |
| Wed 10 Apr 2024 | Whangarei RC | Other |
| Wed 1 May 2024 | Whangarei RC | Other |
| Sat 8 Jun 2024 | Whangarei RC | Other |
| Sat 29 Jun 2024 | Whangarei RC | Other |
| Sat 13 Jul 2024 | Whangarei RC | Other |