Clubs & Courses
Riccarton Park
Clubs & Courses Index
Clubs
The following clubs race at Riccarton Park:
Course
Riccarton Park
Historic Riccarton Park is home to the Canterbury Jockey Club with racing there since 1855. The course is situated just minutes from the Christchurch city centre and International Airport and offers racing fans a beautiful country setting complemented by modern, elegant facilities. There is also a major training and stabling facility as well as the racing opportunities.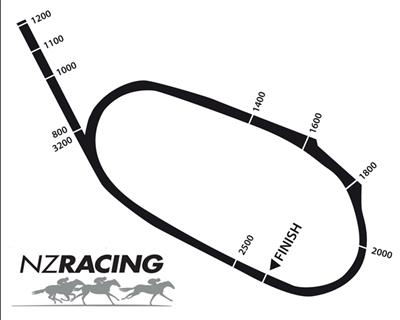 Contact details
Open/close
Racecourse Road
Riccarton
Christchurch
Racecourse Road
Riccarton
Christchurch
Course Info
Open/close
Hospitality:
Each suite has a superb vista of racing with the Canterbury Plains and Southern Alps beyond. You can choose from 12 suites, each catering for 10 to 80 people. For more information, please contact Chris Rowe (
[email protected]
tel: 03 336 0053)
Distance Time Track Date Horse Weight

800m 0-43.34 *NR New 26-Oct-13 HURUNUI 57.5kg

850m 0-47.47 *NR New 12-Oct-97 ROYAL PASS 51.5kg

900m 0-50.35 *NR New 16-Feb-06 TRA CEE 55kg

1000m 0-54.20 *NR New 11-Nov-06 TICKLISH 57kg

1100m 1-02.24 *NR New 29-Feb-00 MISS PARIS HOUSE 56kg

1200m 1-06.81 Old 16-Nov-96 Kincaple Lad 56kg
1-07.01 New 29-Feb-08 PUSHY TOO 58.5kg

1250m 1-14.24 New 6-Dec-13 OUR PREMONITION 53kg

1400m 1-20.21 *NR New 27-Jan-07 MR DEXTER 54kg

1500m 1-28.46 *NR New 12-Apr-08 ROUALYN 57kg

1600m 1-32.83 New 12-Nov-08 MUFHASA 54.5kg

1800m 1-47.09 *NR Old 3-Feb-90 Najaba 52.5kg
1-47.17 New 5-Aug-98 JUST ANYTHING 56kg

2000m 1-59.53 New 16-Apr-01 DEEGAN 50kg

2500m 2-33.04 New 7-Nov-98 TALK SHOW 51.5kg

3200m 3-17.22 Old 10-Nov-90 Soundoration 50.5kg
3-17.81 New 14-Nov-98 SAPIO 59kg

Hurdle Races

2650m 2-58.54 New 6-Aug-03 BARZULU 63kg

3000m 3-18.71 Old 28-Sep-96 Someplace Else 61kg
3-18.72 New 5-Aug-98 RHYTHM STAR 62kg

3100m 3-33.36 New 10-Aug-11 SUPER GLOW 65kg

3200m 3-34.57 New 2-Aug-98 MELOMAI 63kg

4200m 4-41.82 Old 11-Aug-93 Woodbine Blue Chip 62.5kg
4-43.05 New 6-Aug-03 COOL WATER 60.5kg

Steeplechase Races

3200m 3-54.59 New 27-May-11 LIZAC 64.5kg

4250m 4-49.38 New 2-Aug-98 DEECEE SEVEN 67.5kg

5600m 6-33.92 New 9-Aug-98 DEECEE SEVEN 65kg
All meetings
Open/close
| Date | Club | Meeting Name/Type |
| --- | --- | --- |
| Fri 3 Jul 2020 | Riccarton Park - Canterbury JC | Industry |
| Sat 11 Jul 2020 | Riccarton Park - Canterbury JC | Industry |
| Sat 25 Jul 2020 | Riccarton Park - Canterbury JC | Industry |
Featured meeting
New Zealand Cup Week – November 2012
This is arguably the
greatest week
of racing in New Zealand, embracing everything that is great about Christchurch and Canterbury.
Nine Group and Listed races dominate the 32 races held over the meeting.
At this meeting Riccarton Park becomes the focal point of spring racing with the very best three-year-olds travelling to Christchurch seeking to emulate some of the greats of the Australasian turf by winning either of the Guineas races.
Friday 7 December - Riccarton Park Christmas at the Races
The Christchurch home of thoroughbred racing provides you with wonderful options for your end-of-year celebration. Twilight action starts at 4pm with a live band and all the festive fun you need for a great evening out.
Click here for
Event Details
Saturday 26 January - Interislander Summer Festival Riccarton Races
Enjoy a great family day out this summer at the Interislander Summer Festival Riccarton Park Races. There will be plenty of children's entertainment available all day that will keep the kids busy while you sit back, relax and enjoy the exciting racing action!
Click here for
Event Details