Clubs & Courses
Hastings
Clubs & Courses Index
Clubs
The following clubs race at Hastings:
Course
Hastings
Hastings racecourse has an attractive park-like setting. Home to Hawke's Bay Racing, the scene here is vibrant, with an exciting mix of races and events regularly taking place over 16 racedays.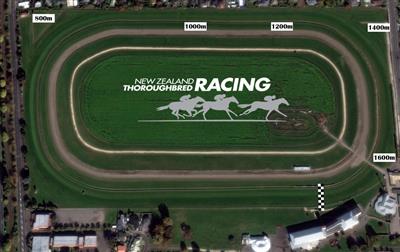 Contact details
Open/close
200 Prospect Road
Hastings200 Prospect Road
Hastings
Course Info
Open/close
What to wear: A tidy standard of dress expected throughout the year. Whilst smart casual is acceptable most days, on major racedays such as the Hawke's Bay Gold Cup and the three days of our Hawke's Bay Spring Racing Carnival, racegoers are encouraged to dress for the occasion. On these days there is a minimum requirement of a jacket or tie for gentlemen using the Members Stand.

Functions/Hospitality: There is a range of facilities to accommodate groups of up to 350 people, with many views offering glorious views over the racecourse and Te Mata Peak.


HAWKE'S BAY RACING CENTRE TRACK RECORDS
DIST
HORSES
DATE
TIME
800m
OUR MAIZCAY (AUS)
October 1 1994
43.4
1000m
MI SIGNOR
October 24 1998
57.31
1100m
FULL CHARGE
April 20 1991
01:04.5
1200m
FALKIRK
November 22 2003
01:08.2
1400m
DARCI BRAHMA
October 1 2005
01:20.0
1600m
GREENE STREET
October 24 1998
01:33.6
2000m
CALM HARBOUR
October 2 1993
01:59.7
2040m
CENT HOME
October 2 1999
02:02.2
2200m
MR BROOKER
April 7 1990
02:13.0
2500m
ANNE CARINA
April 23 2005
02:35.4
H U R D L E S
2500m
CUZZIE BRO
April 23 2005
02:41.1
3100m
BODLE
June 24 2000
03:29.8
S T E E P L E C H A S E S
3200m
LORD KARAMAN
August 3 1988
03:54.2
4000m
NO SWEAT
June 28 2003
04:48.9
4200m
KANAMINT
August 6 1988
04:57.1
4500m
MAJESTIC BLAZE
June 17 1995
06:06.8
4800m
COZI KID
June 20 1987
06:03.7
All meetings
Open/close
| Date | Club | Meeting Name/Type |
| --- | --- | --- |
| Sat 1 May 2021 | Hawke's Bay RI | Feature |
| Wed 26 May 2021 | Hawke's Bay RI | Industry |
| Sat 3 Jul 2021 | Hawke's Bay RI | Feature |
| Thu 22 Jul 2021 | Hawke's Bay RI | Industry |
Featured meeting
One of the jewels in the crown of New Zealand Racing is the Hawke's Bay Spring Racing Carnival held annually throughout September and October. The 6th October is the day that Hastings come alive with race fever. With marquees stretched along the home straight it is the place to be. With hospitality options to suit any group size, budget and style there is no excuse not to be there!

Join us for one of New Zealand's most famous Carnivals...For information on this event please contact Hawke's Bay Racing on (06) 873 4545 or visit www.hawkesbayracing.co.nz

Thursday 12 December - Hastings Christmas at the Races
Hawke's Bay Racing is set to host the best end-of-year party you could wish for this festive season. After working hard all year it's time to celebrate and treat yourself and your colleagues, friends or family to a fun filled day out. It's an occasion not to be missed with live entertainment, great food, thrilling thoroughbred action and all the joys of Christmas! All guests receive free entry to the Twilight After Party.

Click here for Event Details

Wednesday 1 January - Interislander Summer Festival Hawke's Bay Races
Celebrate the New Year at the Interislander Summer Festival Hawke's Bay Races. Enjoy a day fun filled day with plenty of free activities for the kids and great racing for the adults to enjoy. Pack a picnic or sample the local food and wine Hawke's Bay has to offer!

Click here for Event Details