Kiwi to be remembered with Waverley Statue
The phrase "and here comes Kiwi" entered New Zealand racing folklore in November 1983. It was the commentator's famous cry as Kiwi staged one of the most memorable Melbourne Cup performances in the great race's history.

No horse ever looked better-named, as the pride of Waverley came from last to take out the 1983 Melbourne Cup. Kiwi still had nine horses ahead of him with 200m to run but finished so quickly that his winning margin was almost two lengths.

It was a historic victory in more ways than one. Kiwi, and his understated owner-trainer Snow Lupton, had defied the accepted pattern required to win a Melbourne Cup.

It was not unusual for a New Zealand-trained horse to win a Melbourne Cup but in the previous 122 years, none had done so without having a lead-up race in Australia. In addition, no horse had won the Wellington and Melbourne Cups in the same year. But Kiwi's stunning effort, in the hand of 20-year-old Jim Cassidy, turned the accepted norms on their head.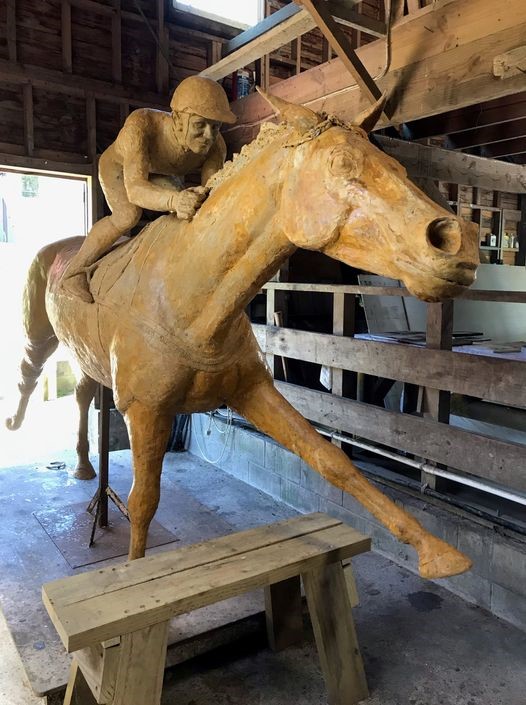 Retired surgeon and racing enthusiast Fridtjof Hanson is creating a life-size mould of 1983 Melbourne Cup winner Kiwi.
Lupton's wife, Anne, paid $1,000 for Kiwi as a yearling and it was Anne who came up with the name. Snow wasn't taken by the name, at least initially. "As far as he was concerned, they were slow birds," Anne admitted later. "He didn't think it was a good name for a racehorse."

Kiwi retired with 13 wins to his name. His Wellington and Melbourne Cup wins were the obvious highlights, but he also won the Taranaki Cup twice, was placed in a Sandown Cup and finished a very respectable sixth in the 1984 Japan Cup.
If there's a horse deserving of a statue, it's Kiwi! New Plymouth sculptor Fridtjof Hansen has created the life-sized sculpture out of plasticine, donating his time and expertise creating it to the town of Waverley. This piece now needs to be bronzed and installed, with an estimated cost of $250,000-$300,000.
Keen to donate? You can do so via this Givealittle page.