Road to The Ned Prix de Fashion: Abby Button
Meet the most recent The Ned Prix de Fashion qualifier - Abby Button, winner of the FITF competition at Wellington Cup Day!
Firstly, a huge congratulations on your win at Wellington Cup Day! Can you tell me a little about your outfit?
Thank you so much! Still can't believe it! Everyone looked beautiful so it was truly an honour to win.
For my Wellington Cup Day outfit, I really wanted to do a full yellow outfit that incorporated a variety of different textures. Normally I use an array of different colours in my outfits but this one was all about texture!
I made the skirt about 6 months ago and it had been hanging in my sewing studio waiting for me to dream up what I wanted to make to go with it. I ended up making my millinery before I made the top, as I had the idea to make a 3D vinyl flower hat using my friends new craft machine. Once I had finished the hat, I really loved the look of the vinyl with the sequins and so that is when I rang one of the lovely ladies I often get fabric off (Fab Fabrics in Auckland) and she sourced me some yellow faux leather!
By the time I got the leather, designed the top and made the pattern, it was one day before I left for Wellington! I already owned all the accessories from previous FITF outfits which ended up working perfectly! In the end, the outfit had 7 different textured yellow fabrics in it.
Where do you find inspiration for your FITF looks?
Since I design and make all my own outfits, my inspiration definitely starts in the fabric store. I love feeling and seeing how the fabric drapes and from there I come up with a design. There is nothing more frustrating than designing an outfit first, being in a time crunch and then not being able to find a fabric that matches what you envision!
I work as a stylist and as a result am constantly around fashion. I often pick up trends while I'm out working and I try and incorporate current trends into my outfits while also maintaining my own personal style and making sure the trends are relevant to racing fashion. I often incorporate trends in my accessories rather than my clothing.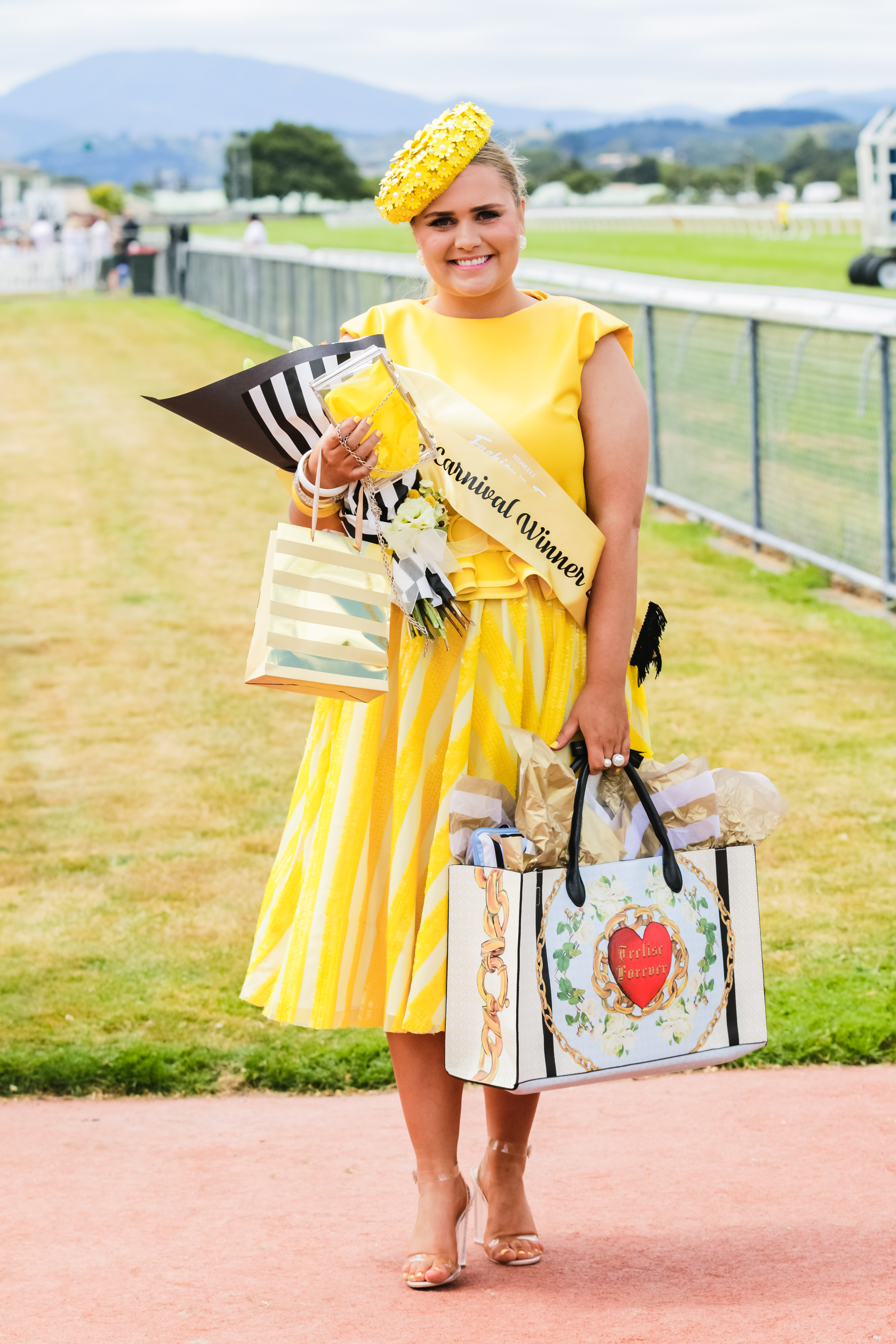 You are now officially qualified for the national fashion in the field final - The Ned Prix de Fashion at Ellerslie! What are you most looking forward to come 6 March?
It is honestly SO exciting!! Over the years I have made some really good friends in the FITF community so I always look forward to seeing them and what outfits they have come up with! I also love the moment when my hair and makeup is done and then putting on my outfit with all the accessories and seeing everything come together. My husband Mahlon is coming with me to Ellerslie and it will be his first time - I am looking forward to spending the day with him and seeing him walk the catwalk, as he often enters FITF as well. I'm obviously also very excited to be representing Wellington Racing Club in the national final! It's a dream.
What trends are you expecting to be big this Autumn (and take centre stage on The Ned Prix de Fashion runway!)?
Silky dresses with movement, bright colours and an effortless approach to outfits.
What advice would you give to someone looking to enter FITF for the first time?
FITF can look daunting to people watching from the outside but once you get involved it really is filled with encouraging people who want to see everyone do well. Come along to a few race days, watch a few competitions and talk to some regulars. One tip from me: When you enter for the first time, get a custom piece of millinery made for your outfit. Milliners have a wealth of knowledge and will help you with overall FITF styling, plus great millinery will never go amiss!
Don't get caught up on winning and always stay true to your style.
Finish the sentence: No great raceday outfit is complete without... Perfect accessories. Everyone can buy a pretty dress but accessories are what takes an outfit to the next level.