Thomas Russell : Six years on
What began as an ordinary morning at Bulls Racecourse for jockey Thomas Russell quickly made a turn for the worse, as the horse he was galloping unexpectedly spooked and threw him to the ground. Landing awkwardly, Russell was knocked unconscious and suffered a C4 spinal injury. "The horse spooked and threw me off," Russell explained "It was just the way I landed."
Russell spent seven weeks in the Intensive Care Unit in Christchurch Hospital, followed by rehabilitation at Burwood Spinal Unit once he no longer required the assistance of a ventilator to breathe. Six years on from the horrific accident, we caught up with Thomas Russell to see how life as a tetraplegic has been for the popular member of the racing community.
The industry was deeply affected by the catastrophic and shocking event, as the tight-knit community banned together and fundraised over $130,000 to purchase a specially built VW multivan for Russell.
Thomas Russell in his multivan with partner Pip D'Arcy-Brain (Left) and Darryl Bradley (Right)
The mastermind behind the fundraising campaign was fellow jockey Darryl Bradley, who supported Russell throughout his recovery journey and continues to do so today. "I still keep in contact with Darryl." said Russell, "He's a real nice guy. I cant speak more highly of him."
From a non-horsey background, the racecourse was across the road from the highschool Russell attended. "I wanted a job after school, and I just thought horse racing looked like it might be of interest. "One day he decided to cross that road and find himself a job, and the rest is history.
Having never sat on a horse before then, Russell went on to have a highly successful career as a jockey earning 279 wins, eight of which at Group or Listed level.
Thomas Russell pictured winning the Skycity Hamilton Guineas before his accident. Photo : Peter Drury/Fairfax NZ
There are a number of career highlights which stand out for Russell, such as being aboard champion galloper Xcellent for his debut win at Te Rapa. Others he noted were winning the two Group 3 races on Cup Day at Riccarton at just 17, and winning the Group 3 Merial Metric Mile on his favourite horse Citi Habit. He's also pretty certain he was aboard Lance O'Sullivan's first listed win as a trainer with Crepe De Chine in the Cullen Stakes at Ellerslie.
During the 2008/09 season, Russell trained in partnership with Ken Kelso where he had 11 winners and was beaten a nose in the 2009 New Zealand Derby with Down The Road. "That experience is what makes Pip and I want to train our own horses in the future." he said.
Partner Pip D'Arcy-Brain was the first to the scene after the horrific accident, and has remained right by his side ever since. "She's always there." said Russell, "She makes sure everything is done around here."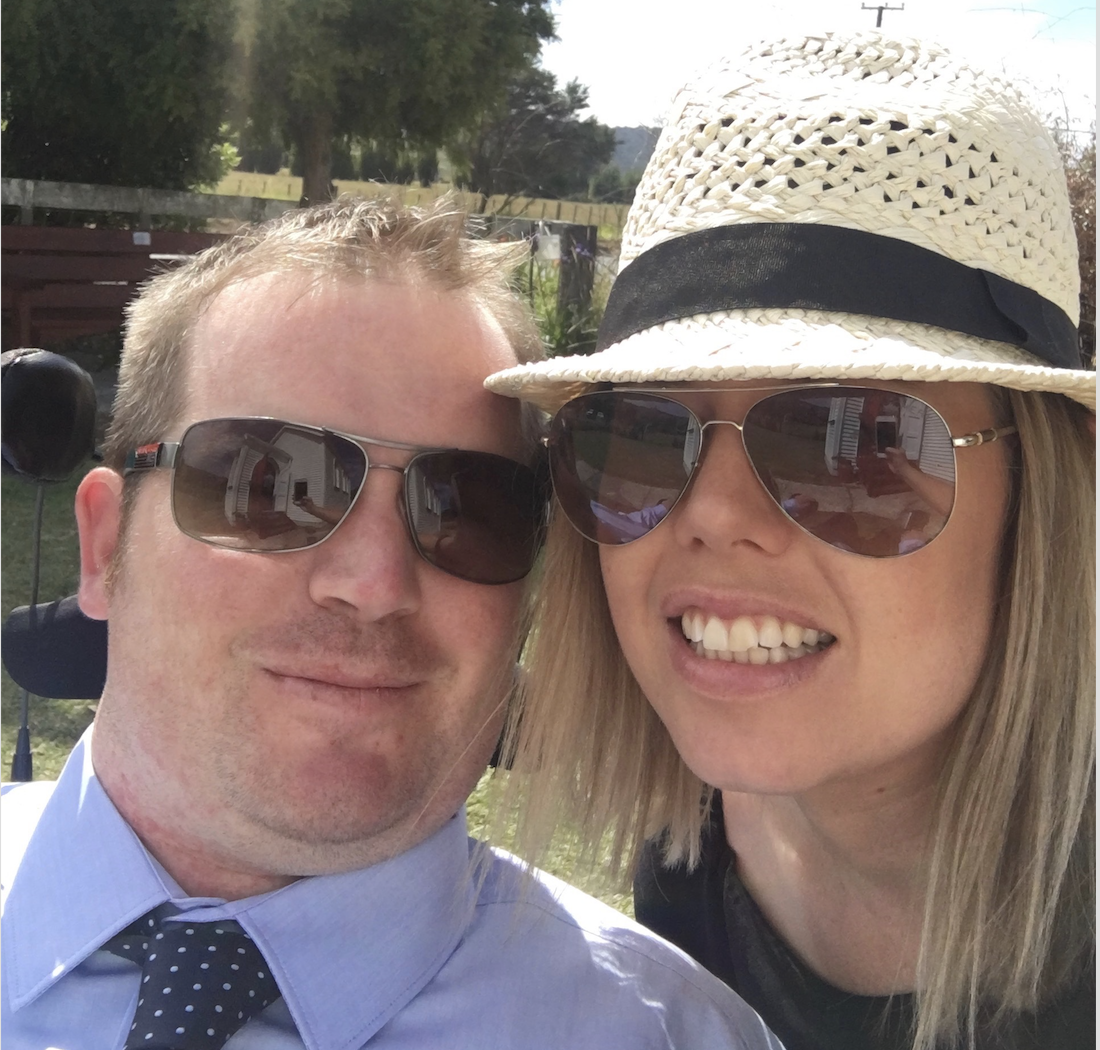 Thomas Russell and Pip D'Arcy-Brain
Living together just outside of Whanganui, the pair continue Russell's physio and exercise together from home, with the odd follow up from Burwood Hospital. Able to stick to their own schedule, the focus is on regular movement and flexibility, but Russell admits there has been little improvement. "There's actually really been no change, it's just keeping everything flexible and moving."
When they made the move to their property, they purchased ex-Te Akau mare Love Actually and have so far bred two foals. "We have a couple acres and a couple of horses to muck around with, so it keeps us busy at home. "One by Jakkalberry and the other an Unusual Suspect, Russell is looking forward to their future and it has provided Russell with a new focus.
Now working as a jockey manager for Leah Hemi, Russell is able to remain involved in the industry in a different way. The pair have shared a number of career highlights, specifically running second in the Wellington Cup on Dee And Gee and going on to win the New Zealand Cup. "That was pretty awesome." he said, "Me and Leah, as we normally do, went through the races and worked out tactics and everything just went to plan." Russell hopes to have more clients as a jockey manager in the near future, "I was pretty chuffed that I could be part of it, and help her."