Bess: The NZ Thoroughbred who went to War
Only four of the more than 10,000 horses New Zealand sent overseas during the first World War returned home, and one was a little thoroughbred mare named Bess.
The dark brown filly with a small white star on her head was bred by A.D Mcmaster of Matawhero, near Martinborough. By Sarazen out of Miss Jury, 'Zelma' as she was originally named was owned by Fred Deller, an accountant in Carterton who purchased her as a two-year-old. When he enlisted himself, he also offered Bess for the war effort.
Allocated to the Wellington Mounted Rifles Regiment, she was selected by Colonel CG Powles, a veteran of the South African War who renamed her Bess. In his book The New Zealanders in Sinai and Palenstine, Powles described her as an "ideal charger, a sound hunter, and could see at night like a cat."
Bess the brave. Photo: Terry Kinloch
Horses deemed suitable for battle had to meet a certain criteria. This included aged four to seven years old, between 14.2 and 15.2 hands high, plain coloured and geldings were preferred over mares. The average cost of a riding hack was between £15 and £30, and each packhorse and draught horse cost the government up to £40
The four-year-old mare left Wellington in October 1914, leaving behind idyllic New Zealand pastures bound for the deserts of Egypt. Tethered in cramped stalls for seven weeks, a number of horses did not survive the grueling sea journey.
Most, like Bess, were for the mounted brigades, while others were used for transport. Surviving on limited rations, horses sometimes went days without water as they journeyed through the harsh and unforgiving terrain. Often trekking 50km a day through scorching heat and sand, or heavy rain and thick mud. Countless horses succumbed to disease, exhaustion and injury from shell fire or aerial bombing.
Together, Bess and Colonel Powles served in Egypt 1915, Sinai 1916 and the 1917 Palestine Campaign. They then journeyed to France where they joined the New Zealand Division in France and then the occupation of Germany's Rhineland.
Powel wrote "He who has once ridden into action with bullets whistling past his ears and the shells bursting around him will never forget his horse, how the good stead became verily a part of his body."
Bess on the banks of the Jordan River in 1918.
During one battle, a shell exploded in front of Bess, throwing Powles to the ground, she stayed by his wounded body till help arrived. Shrapnel was once removed from her hindquarters from battle. When the enemy retreated, they rode through the ancient Israeli town of Jaffa where villagers greeted them. Powel lifted a little girl onto Bess' back where they rode through the narrow streets together. Bess was even reunited with Deller, who became her groom in Sinai and stayed together till the war's end in 1918.
When the conflict had ended, some found homes, but many of the battle-worn horses were tragically killed by their riders who felt it was the most humane thing to do, concerned that the locals would mistreat them. A sad reality of war, a shortage of transport quarantine and restrictions related to animal diseases prevented most horses from returning to New Zealand. Bess, who survived numerous bloody campaigns, was one of the lucky ones.
At the war's end, Bess was repatriated to England in March 1919 and spent 12 months quarantined before returning home to New Zealand. Of the more than 3000 horses dispatched with the first New Zealand Expeditionary Force in 1914, Bess was the only horse to have remained with one master.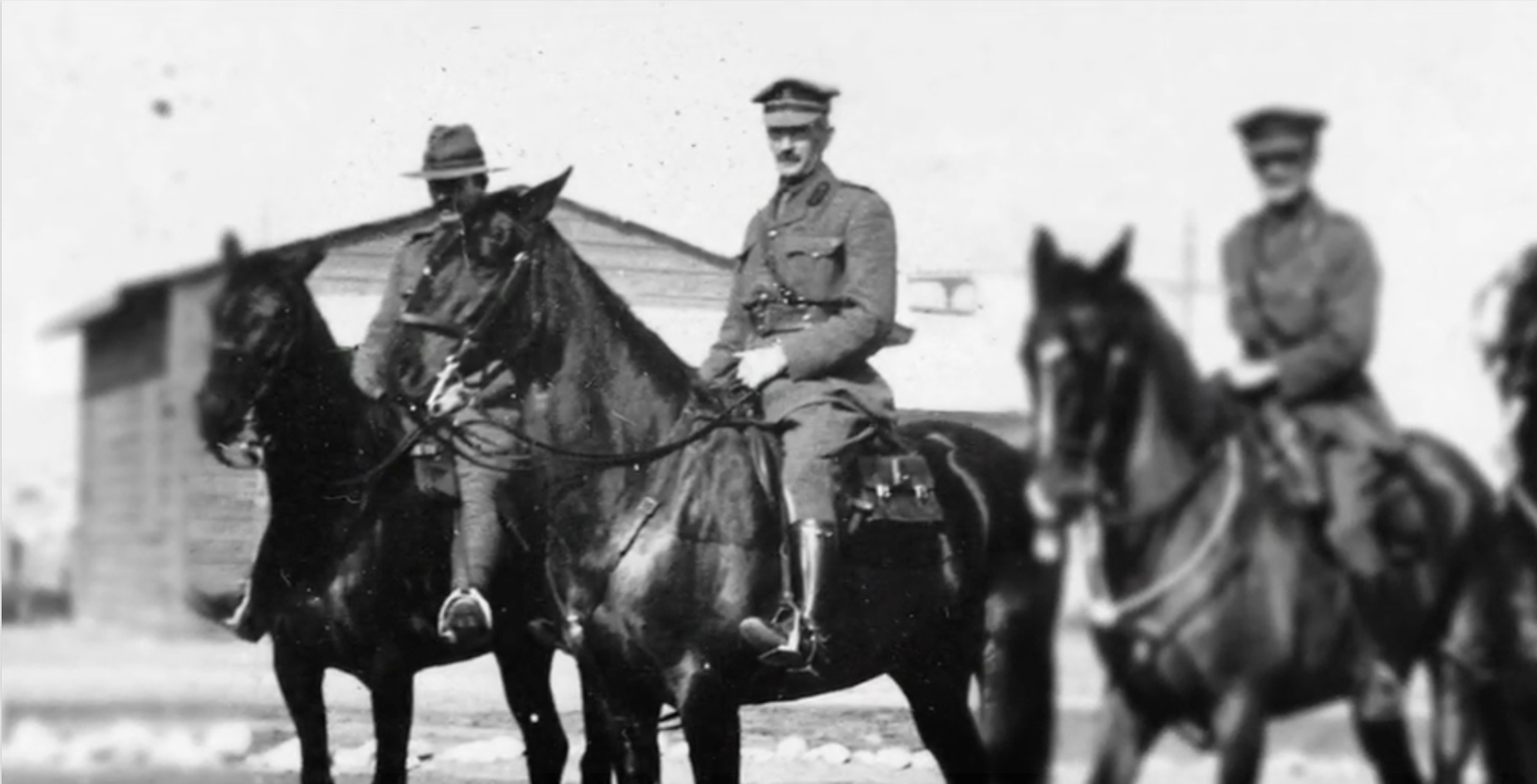 Bess and Colonel CG Powles (Centre). Photo: NZ On Screen
Bess continued to serve Powles after her return to New Zealand while he was a commander at Trentham and later as headmaster at Flock House, an agricultural training school for sons whose fathers had died at war.
After producing four foals and continuing to stay active, during her daily ride with Powles over the Flock House farm in October of 1934, she suffered a brain haemorrhage and died almost immediately. She was 24.
Powles and his two sons built a memorial site on the spot where she died, and every Anzac Day there is a gathering at Bess' grave, a now default memorial for all New Zealand animals which served during World War I. The memorial cairn that sits on Forest Road, just west of Bulls is made from white marble and features two memorial plaques. One listing the places she served during the war while the other is engraved with 'In the Name of the Most High God' in Arabic.
Memorial to Bess. Photo: NZ History.Govt
Bess was acknowledged by the New Zealand Racing Hall of Fame in 2016, a quote from the citation reads; "This thoroughbred mare overcame more trials and trauma than any other thoroughbred in New Zealand history." She even has two of her own childrens books titled Bess, The Brave War Horse and Brave Bess and The ANZAC Horses by Susan Brocker.
Bess however wasn't the only thoroughbred to return home. Of the 136,000 Australian horses sent into battle during the first World War, a bay thoroughbred gelding named Sandy was the only one to return home. The dying wish of his rider Major General Sir William Bridges, Commander of the 1st Australian Division, who was fatally shot at Gallipoli.