TiES Series Wrap
Georgia Bouzaid with A P Ninja
Created in 2014, the Thoroughbred in Equestrian Sports Series is a joint initiative set up by New Zealand Thoroughbred Racing (NZTR) and Equestrian Sports New Zealand (ESNZ).
The aim of the scheme is to increase opportunities for thoroughbred horses retiring from racing. Raising awareness of the adaptability and versatility of thoroughbreds, the series covers four different disciplines; including show jumping, show hunter, eventing and dressage. This year's winners were announced at the Land Rover Horse of the Year Show where each winner went home with a sash and cover, with rosettes to the placegetters.
Cambridge student Georgia Bouzaid took out the show jumping section of the series aboard the talented A P Ninja. With a final score of 128, well ahead of second place getter Karis Spurway aboard 14-year-old gelding Kapattack (Kapstaad x Fanny Black).
This is not A P Ninja's first TiES Series win, having won it three consecutive years (2016-2018) with previous rider Emily Haward.
Bred by Butch and Lou Thomas, A P Ninja is by A P Ruler, son of the great American sire A P Indy, out of Secretariat mare Office Affair. Unraced, the now 13-year-old gelding has made quite the name for himself on the Grand Prix show jumping circuit. It's been a great season for the pair, winning multiple Junior Rider classes, including the North Island Junior Rider title and their first Grand Prix Super Series start together. They also placed second overall in the Equifibre Junior Rider series.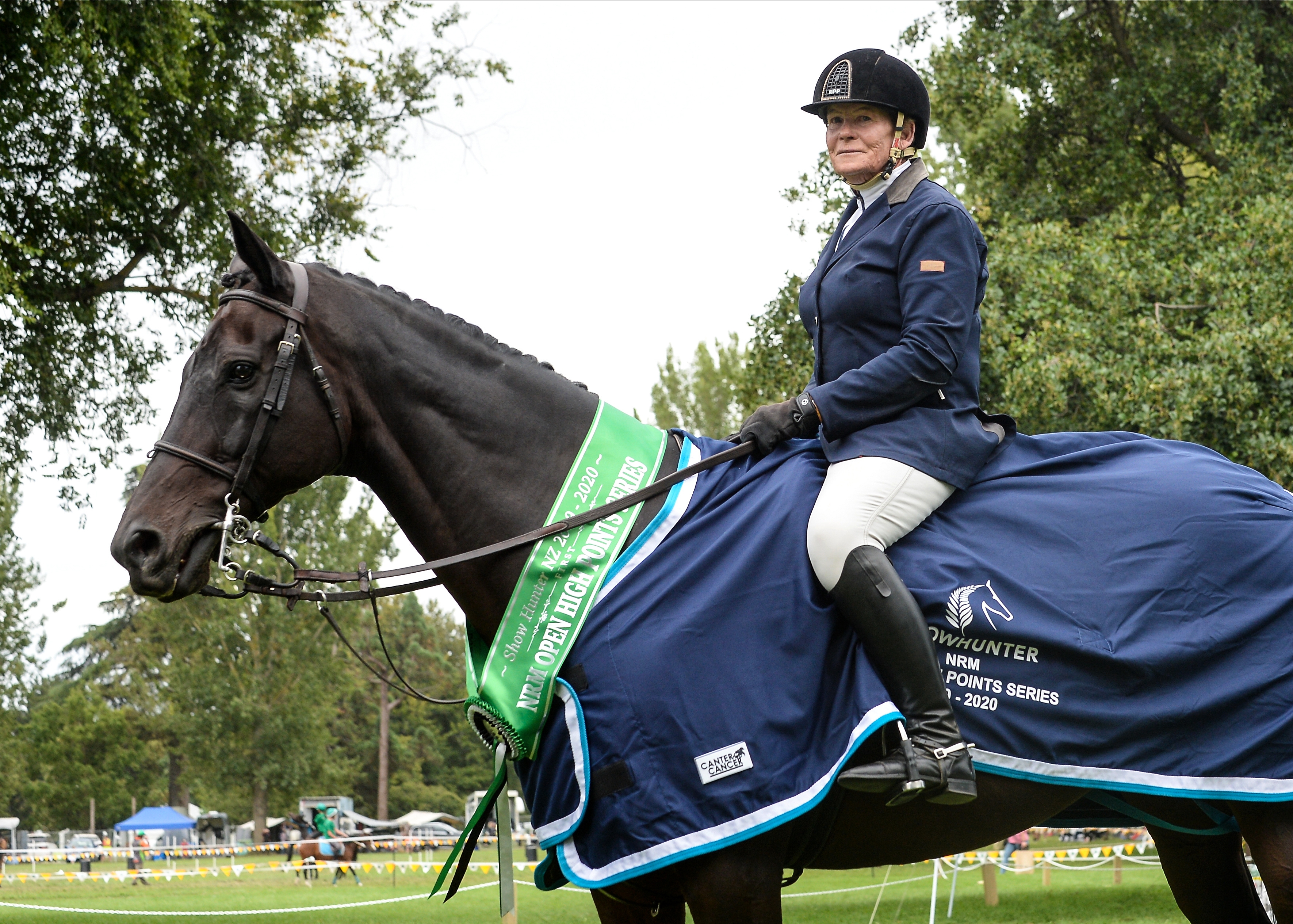 Merran Hain and Untouchable win the NRM Open Show Hunter High Points
Merran Hain and Untouchable are no strangers to the TiES show hunter section, having won it five times in total, the last four seasons in a row and finishing second the only other time. Hain won with a final score of 140 points, well ahead of second placed My Gummi Bear (Defensive Play - Southern Beauty) on 82, ridden by Ashleigh Forde.
The Gisborne grandmother also took home the NRM Open Show Hunter High Points for the first time. A fierce competitor, Hain's success wasn't just in the show hunter ring, she and Untouchable also won the Working Hunter Horse of the year and Hunter Horse of the Year.
Bred by Ms D L Steer the now 19-year-old gelding by the USA-bred son of Danzig, Warsaw Pact was the last foal from the race-winning Icelandic mare Melting Point. Melting Point's dam Summer Fire was also the dam of winners Huka Nymph, Battle Fire, Summer Riches, and smart mare Lady Godiva, who won two races at 1800m and 2000m and was placed in the Waikato RC Dunstan Stayers Final. Registered as Wicked Game, Untouchable was originally passed in at the South Island Sale of 2YOs and Mixed Bloodstock in August 2002, and only trialled before being deemed too slow by trainers Roger and Darrel Lang. Falling into the hands of the legendary Mark Todd, he was then purchased by Merran Hain as a four-year-old.
Hain, a legend in her own right, is the only rider in history to have ridden for NZ in three separate Olympic events, showjumping, dressage and eventing. Competing on New Zealand's show circuit for more than 60 years, she has won a number of major titles and has been inducted in the Equestrian Sports New Zealand Hall of Fame and is a recipient of the Queen's Service Medal.
This is not the first successful OTTB Hain has competed, others include Smiley John, by Cornvale, who represented New Zealand twice in Australia in the national dressage team, won the Burkner Medal (New Zealand's top dressage prize) and the Rigoletto Trophy (Grand Prix Freestyle Champion at the Horse of the Year show). First raced as a two-year-old, Smiley John competed successfully until 25 years of age. Momento, which won the Norwood Gold Cup (showjumping) was another of Hain's thoroughbred stars.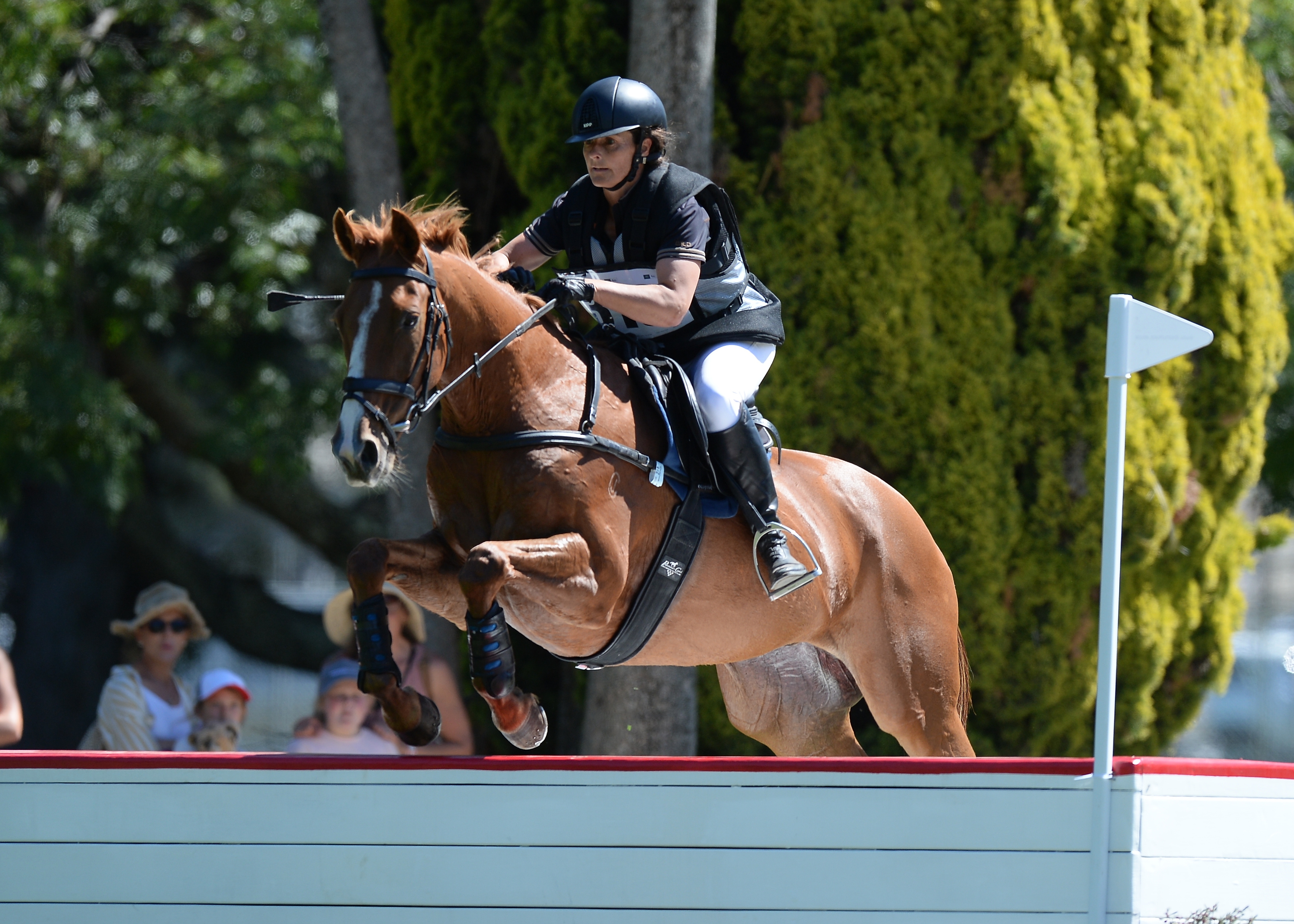 Sharne Paton with McConnell Road
The eventing section was narrowly won by Sharne Paton on her 15-year-old chestnut gelding McConnell Road. Bred by the late Jim Campin, by American import and Group One winner Traditionally, McConnell Road is out of Group Three winning mare Rhythm. Despite this impeccable breeding, he was unplaced from eight starts, and not even assisted when ridden in his first trial by then apprentice James McDonald. Raced in the same name, he definitely found his strength in his new life as a now 3* winning eventer. Paton, a mother of four from the Waitaki Plains, and McConnell Road also combined to win the ESNZ Eventing Amatuer Rider series.
The Dressage Title went to Trista Bailey on GB Nightingale. The 11-year-old gelding, by Snippetson (a son of Snippets), out of the Canny Lad mare Save Me A Dance, raced in Hong Kong as Glacier Blue. Australian-bred, he was passed in the 2010 Perth Yearling Sale before being trained by Richard Gibson, winning over $2,000,000 HKD. The winner of three races, his biggest payday was in the 2015 $128,000 New York Hcp (C4) at Sha Tin over 1400 metres. He came to New Zealand in 2017 where he was rehomed by Gina Schick from Eventstars.
GB Nightingale Photo: Debbie Stevens