Campin on cloud nine
Wyndspelle's co-trainer Johno Benner, jockey Jason Waddell and co-owner Jen Campin pose in the Trentham birdcage on Saturday.
Photo credit:
Race Images – Grant Matthew
As she waited to board a plane home from Wellington airport on Sunday afternoon, well-known bloodstock agent and racing identity Jen Campin was trying to work out just how she was going to answer the hundreds of congratulatory messages she had received after her favourite 'cruisy dude', Wyndspelle, finally broke his Group One maiden status.
Campin had been on-course at Trentham on Saturday to witness Wyndspelle and rider Jason Waddell dominate the closing stages of the Gr.1 Captain Cook Stakes (1600m) to erase the pain of six previous minor placings at Group One-level including four runner-up finishes.
The six-year-old Iffraaj entire has been a terrific performer for owners John Frew and his sister Shirley, Brisbane businessman Neil Randles and Campin since he stepped out as a two-year-old back in January 2016, but a Group One victory had eluded him until now.
"I'm still pinching myself now that he has finally done it after all those times he just missed," Campin said.
"He is just a wonderful horse, with such a placid demeanour and he tries so hard that I think he has really endeared himself to the racing public.
"I had a look at my phone this morning and there are literally hundreds of messages congratulating us.
"The noise in the birdcage when he won was incredible and I'm still on a high about it all.
"He is my favourite cruisy dude and we love him to bits, so to get the Group One win is just amazing."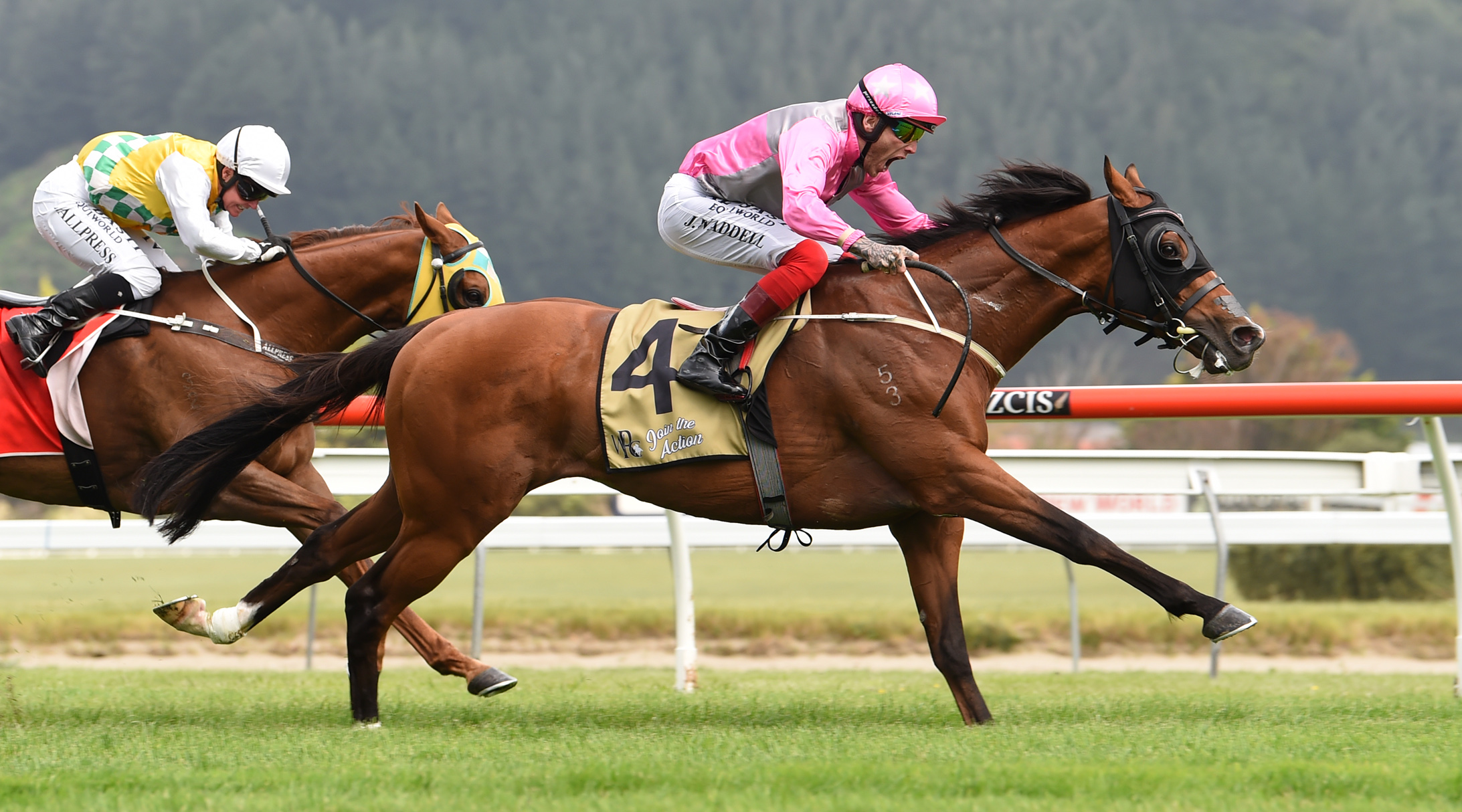 Wyndspelle takes out the Gr.1 Captain Cook Stakes (1600m) at Trentham. Photo credit: Race Images – Grant Matthew
Campin fell in love with Wyndspelle when she and fellow bloodstock agent Phill Cataldo first inspected him at the 2015 New Zealand Bloodstock National Yearling Sale.
"I've worked with Phill for a number of years and we were looking at our short list for that year's sale when I first saw him in the Hallmark Stud draft," Campin said.
"It was pretty much love at first sight as he had such a beautiful rhythmic walk and a really huge back end.
"Even then his temperament shone through as he was just so unflappable, so we ended up going to $75,000 to buy him."
Wyndspelle started his career from the Donna Logan and Chris Gibbs stable where he won two of his 14 starts including a victory in the Gr.2 Waikato Guineas (2000m) as a three-year-old while he also finished runner-up in the Gr.1 Diamond Stakes (1200m) at just his third start as a two-year-old.
Transferred to the stable of Mick Kent for an Australian campaign, Wyndspelle failed to add to his winning tally but still managed three stakes placings including finishing third in the 2017 Gr.1 Cantala Stakes (1600m) behind New Zealand-bred mare Shillelagh and Tom Melbourne.
Returned to New Zealand in 2018, Wyndspelle joined the stable of Johno Benner and Hollie Wynyard who now handle all of Campin's horses.
"I really think it was meant to be on Saturday as everything seemed to just fall into place," Campin said.
"Johno and Hollie had him looking like a million dollars and I thought he was the standout in the parade ring.
"Jason rode a great race and even said to me afterwards that when he let him go at the 200m he had to hang on he was going that fast.
"Johno, Hollie and Jason have a real soft spot for him so I think I was just as pleased for them as I was for myself when the result was confirmed."
Campin and her fellow owners are now faced with the decision on whether to continue Wyndspelle's racing career or take the opportunity to retire him to the stallion barn.
"Now that he has that Group One win under his belt it does present some opportunities for us from a breeding outlook," Campin said.
"We have fielded enquiries from several farms about standing him at stud and that is a decision we are going to have to make.
"I would think that if he does go to stud then it is likely he won't race again but once we have sat down and discussed it all, it will become clearer then.
"If he can throw horses with the same physical attributes he has and that bulletproof temperament then I think he will have a very exciting future at stud."