Andrews returns to the birdcage 76 years later
Merv Andrews and strapper Matt Ward with NZ Oaks winner Sentimental Miss - photo Peter Rubery Race Images
Remember the 1943 New Zealand Cup at Riccarton? Merv Andrews can, because he won the race on the longshot Classform.
This is the same Merv Andrews who took part in another birdcage presentation at Trentham last weekend, as a part-owner of New Zealand Oaks winner Sentimental Miss.
It was another landmark moment for a man who has been winning major races, as a jockey, trainer or owner, over a period of more than 75 years.
Merv, who lives in Palmerston North, was 15-year-old apprentice when he rode Classform and was less than a fortnight away from his 91st birthday when he watched Sentimental Miss triumph at Trentham.
"It was a big thrill," he said of the Oaks victory. "I had some nice fillies [as a trainer] but I don't remember having a starter in the Oaks."
That being the case, there's a good chance that Merv hadn't had an Oaks runner before, because his recall during a phone conversation during the week was impressive.
He had no hesitation in recalling both the name and the correct spelling of Nighean, who was his first winner as a jockey, at Hastings in March 1943. His first training win also came at Hastings, when Master Rich won a steeplechase in August 1952, at his first start for the stable. "Hastings was always a lucky track for me."
The first flat win was a tight affair, with Nighean winning by a head but there was never much doubt over Master Rich's success, with the winning margin recorded as 150 metres.
Merv won two more races on Nighean that term and ended the season with five wins, a good tally in an era when there was no lack of competition in the riding ranks, for either apprentices or senior jockeys.
He was still in his first year as an apprentice when he partnered Classform in a blanket finish to the New Zealand Cup, with the margins being half a head, half a head and a neck. Classform, a seven-year-old mare, was 12-12 in the betting in a 16-horse field and held out the favourite Representative, ridden by top rider Larry Wiggins.
Classform was owned and trained at Awapuni, where Merv was based, and carried only 7st 1lb (45kg) in the Cup. "There weren't many riders who could make that weight."
Merv later joined the handful of horsemen who have both trained and ridden a New Zealand Cup winner, when he prepared Alaska to win the Riccarton feature in 1964. Alaska, who headed off the southern stars Kumai and Palisade, was raced by Ned Fitzgerald, who was better known as the owner-breeder of champion galloper Kindergarten. Merv had previously won races for Fitzgerald as a jockey, including the Hawke's Bay Hurdles.
Merv, who was brought up at Te Kauwhata, did not come from a racing family but his mother was a racing fan and Merv was impressed by the spectacle as a child. "My mother loved the races and took me to meetings at Hamilton a couple of times."
Merv eventually shifted to Palmerston North to take up an apprenticeship with Awapuni trainer Jim Waller. "A relation of mine knew of relation of his [Waller}. I was with him with about 11 years."
Jim Waller had a lot of success with jumpers and demonstrated some of the skills that were to emerge three generations later with a horseman named Chris Waller. "I think the Wallers have racing in their blood," Merv said.
Merv began riding over fences comparatively early in his career and quickly made a mark. He won the 1949 Wellington Steeplechase on Gaiety, 70 years before his Oaks win, and won both the Grand National Steeplechase (Dawn March) and Hurdle (Gay Fellow) at the 1950 National meeting at Riccarton. His other wins on Dawn March Included the Hawke's Bay Steeplechase and Awapuni Hurdle.
Merv was still in his mid-20s when he took up training, first at Awapuni and later at Bulls. His training career encompassed more than 40 seasons and he notched his final black-type win when Gaytrice won the 1994 Manawatu Breeders' Stakes.
He was consistently among the leading central districts trainers in an era where the competition included the likes of Syd Brown, Garth Ivil, Eric Ropiha, Brian Deacon, Eric Temperton and Noel Eales.
Merv's flagbearers include Beatnik (12 wins), Shelly Burford (15 wins) and Classic Bay.
Beatnik was a high-class mare and won the 1972 Avondale Cup – then one of New Zealand's most prized trophies – in track record time. Beatnik also won the Harcourt Stakes at Trentham and the George Adams at Riccarton.
Shelly Burford, a Pakistan II mare, was a quality sprinter-miler. She gave Merv the first of his two Cuddle Stakes wins at Trentham and was placed in the Telegraph.
Classic Bay won 10 races and provided Merv with a career highlight when tackling the 1988 Melbourne Cup. Classic Bay was unplaced at Flemington but had won the Geelong Cup at his previous start.
His record that spring also included winning the Beamish Stakes, the Hastings weight-for-age race later known as the Kelt Stakes and Livamol Classic, and a third at weight-for-age behind Bonecrusher and The Filbert.
Merv had two wins in the Parliamentary Handicap at Trentham and also won the Winter Oats, at a time when the two Trentham features were among the high points of the winter calendar.
He also trained a Grand National Hurdles winner and added a Winter Cup to his list of feature wins at Riccarton.
Since his retirement, Merv has been a shareholder in two Go Racing horses trained at Awapuni by Lisa Latta, the first being Sadlers Rock, who won five races and was placed in a Hawke's Bay Cup.
Merv's practiced eye told him that Sentimental Miss, who was racing in blinkers for the first time, was going to be a threat in the Oaks with a round to go. "She had been reluctant to get in amongst them [other horses] previously and had tended to be slow away but she raced absolutely beautifully on Saturday. When she went past us the first time I thought 'now that's beautiful to see'."
Sentimental Miss was at good odds in the Oaks but Merv wasn't tempted by the $21 price. "I've never been a bettor. I wasn't blessed with a lot of money and had to start off from scratch.
"But I've always said it's better to be born lucky than rich and I know I've been extremely lucky. Racing has been very good to me."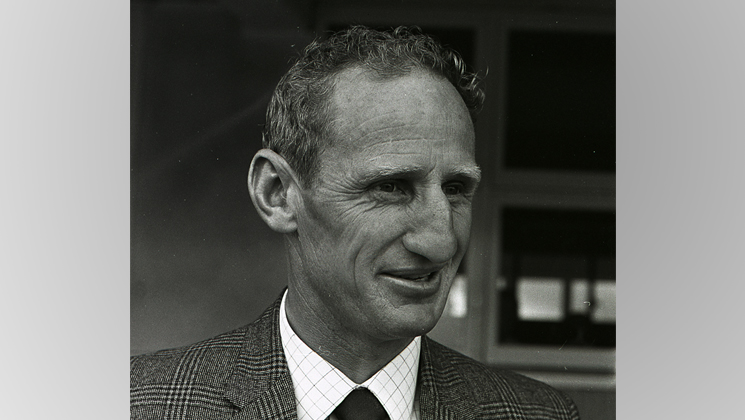 Photo - Ken Lush Race Images