Blog - Your Guide to Derby Day
Image Credit: InStyle Magazine Australia
Your Vodafone Derby Day Guide
Black and white - it seems pretty simple! Although, sometimes black and white is not so 'black and white.' Cue our guide to Derby Day!
DRESS
Dress codes are stressful enough but when it comes to racing (and Derby Day in particular!), the term 'dress code' is taken to another level. Monochrome, black and white, NO colour. It's enough to have the most seasoned race-going fashionistas scratching their heads.
Don't let black and white become (dare we say it), black and boring! Add interest to a plain dress by donning a wide brimmed hat or classic accessories. Pay attention to shapes - voluminous skirts or balloon sleeves are a great way to add interest.
When it comes to makeup, keep things clean. Choose a feature and focus on that. A bold winged liner or statement red lip is perfect.
Please note: If you are entering the Fashion on Derby Day the judges are looking for the best outfit on the day and colour does not come into their decision - so go crazy!
EAT
It's no secret that the hospitality offered at Ellerslie Racecourse is among the best. Cuvee is the creme de la creme, offering a gourmet food and beverage package in a highly social atmosphere.
Garden party is the perfect place for racegoers looking to send out summer with a bang! Gather your squad and get set to party in this vibrant area.
If you're after something a little more low key, consider packing a picnic and enjoying a relaxed day in the General Admission area. You'll enjoy prime views of the track and easy access to drinks and betting facilities.
RACE
Top class trainers, jockeys and horses flock to Derby Day, in search of big stakes and to secure big reputations. The New Zealand Derby is a set weights race, for three-year-old horses and is run over 2400m, making the race suited to staying types of horses. The purse this year is an incredible $1,000,000! Although the race is open to both fillies and geldings/colts, fillies have only won the race a handful of times, with the boys tending to dominate the race.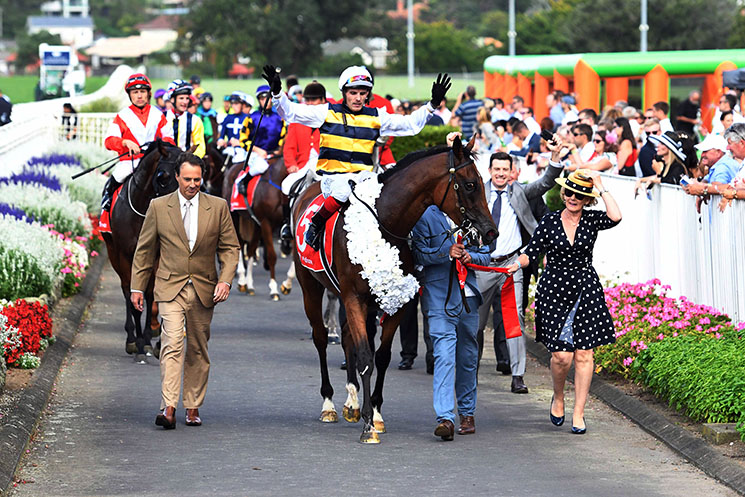 Vin De Dance took out the NZ Vondafone Derby last year. Who will it be this year?
The New Zealand Derby is set to run on 2 March and as always, will be the perfect opening to Auckland Cup week. See you on-course!
KEY INFO
Gates open: 11am
Hospitality open: 11.30am
First race at approx. 12.30pm
Last race at approx: 6.00pm
Secure your Vodafone Derby Day tickets
here
.