Unsung Hero - John-Boy Boyak
Those who know him call him a horseman with extraordinary talent . . . a horse whisperer if you like, but John-boy Boyack is far more low key than that.
He was a bit of a late starter into the horse world, not learning to ride until he was 14, but it quickly became clear to those teaching him that he had a natural talent. John-boy grew up in Whakatane and it was thanks to his sister Jean's love of horses that he found them.
"She was getting lessons from Era Bedford," remembers 43-year-old John-boy. "Era had polio, so one leg just kept swinging. When Jean discovered boys and other things, I started learning to ride. Era used to say I was her other leg."
Through Era he met Olympic showjumper Colin McIntosh and he moved into hunting and showjumping, and groomed for him for a year-and-a-half from McIntosh's Taneatua base. "I learnt a lot from Colin too."
Around the same time he made his move into the racing scene when he met Dennis Riddell at the Te Teko Race Course and he did track riding, breaking and even learnt to shoe a horse. That 'need for speed' got him hooked on thoroughbreds.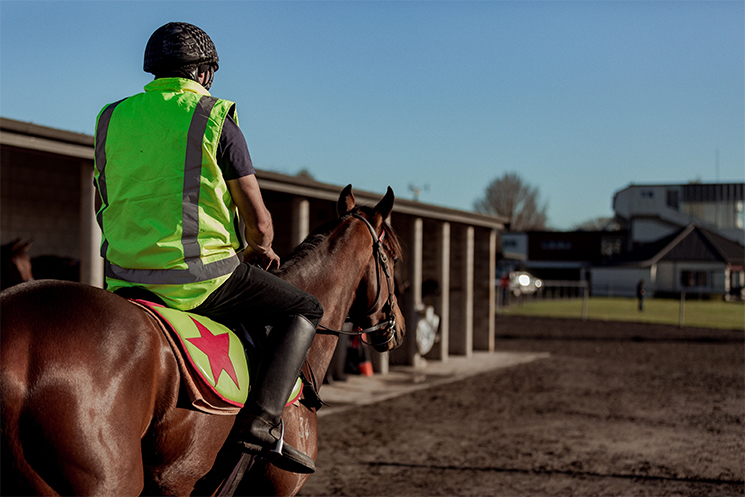 From there he headed north, taking up a job at Kelly Park where he was doing breakers for owner June Thompson. While there he also received dressage lessons from the much-admired Lockie Richards, who was a trainer of eventer Sir Mark Todd. Two years later John-boy returned home to Whakatane where he freelanced his talents with horses.
But a real turning point in his life came when he did a Monty Roberts course. "That turned me from being a traditional horse breaker to one who understands so much more," says John-boy. "Once I did his course and saw how the horse actually reacts with body language, I was like 'wow'. It's all about remaining calm and understanding how the horse is thinking. Some people may call a horse a mongrel but really, it's the people on the ground who have the mongrel behavior most of the time."
Around seven years ago he headed across the Tasman where he worked for trainer Maryann Brosnan – sister of his current employer Mark – on the Gold Coast. That led to him working in Sydney with Guy Walter as a track rider and stable hand. "Once he realized I wasn't a bad horseman he sent me away with some of his good horses – now that was incredible."
One of those horses was Streama who won two Group 2s and the Group 1 Doomben Cup, along with the Queen of the Turf crown on the Gold Coast. The horse remains dear to his heart. "She had never won two races in a row," says John-boy. "She had won a lot of big races, but not two on the trot." John-boy had predicted the mare would go well but was scoffed at. "I said she would and she came out and blitzed them. She retired after that."
While with Guy he was there when Canny Ballad won the Albury Gold Cup in what at the time was called the strongest field in the race's history.
With the hedonistic highs of his time with Guy also came some of his darkest hours as just days after Streama won the Doomben Cup, Guy died of a heart attack. "We tried to resuscitate him before the ambulance came but no luck," he said. "After that I tried working for a couple of others but it just wasn't the same."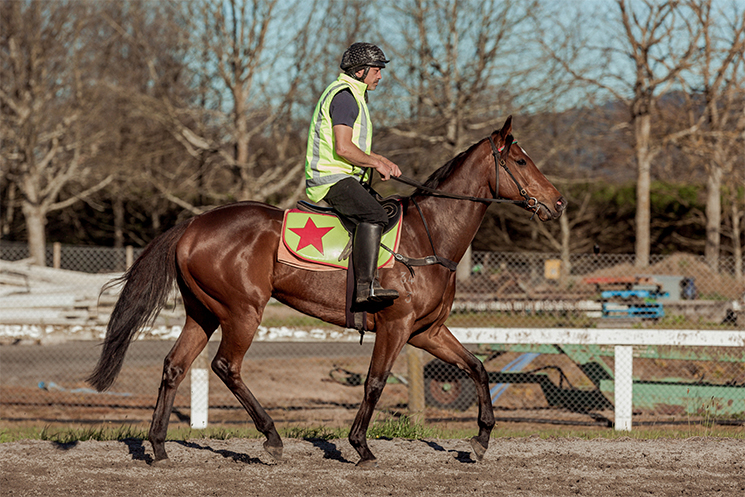 He came home and started working with Mark and Yo Brosnan at Matamata, stepping in to ride track work for them and he's just stayed on – much to their delight. He also rides 'difficult' horses for the likes of Vicki Prendergast, Glenn Old, Karen Fursden and Karyn and Hamish McQuade, among others.
A father of two, step-father of two and grandfather to five, John-boy is the go-to guy for challenging horses. "I like to let the horse talk to me and we go from there. I give the horse every option to run away but once they realise I am not going to eat them, I just do my thing, reassuring them everything is going to be alright. I take things right back to the basics. There are only two of you in the herd and I am the leader – the horse has to acknowledge that and then off we go."
Mark Brosnan says his rider is clearly gifted. "His ability to ride a young horse is second to none and he can stick on better than most – if he gets bucked off, he's right back on. John-boy has very good balance on a horse and he will get on anything – including the ones others just won't touch, but he is also very kind with horses."
Trainer Glenn Old agrees. "He is the best there is with the babies," says Glenn. "His laid back nature just works so well with them and he has the right temperament. Animals just know that. I see him every day – he loves to crack a joke and have a laugh. We certainly have a lot of fun together."
John-boy loves what he does and would love to own his own operation one day where he can take the "so-called naughty" horses and turn them around. "I love riding them and seeing them come right – there's something special about that."