Their Story - Toni Moki
Jumps jockey Toni Moki might look right at home perched on top of a thoroughbred galloping around a racetrack, but many won't know that this multitalented rider has another impressive string to her sporting bow.
Until earlier this year when she begun making a career as a jumps jockey, Toni, who grew up in Hunua, South of Auckland, has always balanced her two sporting passions - horses and taekwondo.
Horses came into her life at age seven, the same time she started Taekwondo, and she instantly took to riding with enthusiasm, but for Toni and her three younger sisters, Taekwondo was a non-negotiable with their parents, Maryann and Joe.
"We had to do Taekwondo, there were times that each of us threw tantrums about it, but while we lived at home we had to do Taekwondo and we had to reach black belt," says Toni.
Reaching black belt at age 11, Toni was part of a New Zealand Junior team that travelled to Texas in 1998 when she was 14, and since then has competed at international competitions in North Korea, Germany, Argentina, United Kingdom and Spain - with her last being the Senior World Championships in Italy in 2015.
Balancing four years of university study, then a career in psychology alongside the demands of Taekwondo, means Toni's had to dip in and out of the martial arts based sport over the years, but has always come back to it.
"I find that I can do two years in a row of international competitions, then take a break, have a year off and then take six to eight months to get back to the point where I can trial for a New Zealand team and that's what I've done for the past 15 years," she says. "There have been periods in my life where there was no way I could prepare for an international comp as well as do what I was doing at the time with certain jobs or uni."
Considering that when one is preparing for an international Taekwondo competition it's necessary to train up to three hours a day, six days a week, it's easy to appreciate why Toni, who never wanted to do Taekwondo professionally, took those breaks.
Nonetheless she's competed successfully at the biannual World Championships for ITF Taekwondo every second year since 2001, including picking a silver medal in Spain in 2013.
Toni's other great love – riding horses – is something else she's always continued with, albeit slightly sporadically. Competing in show jumping, eventing and at Pony Club with her sisters when she was younger, Toni started riding track work at age 16 and at 19 rode for a season as a jockey, before giving it up to head to university.
Even though Toni showed talent in her first season of riding all those years ago, she wasn't ready then to make it her career.
"I didn't think I was very good and I probably wasn't back then," she says. "Riding was always a huge passion, but I never really saw it as a real career option and there were so many other things I wanted to do."
She went to Massey University in 2003 with aspirations to become a vet, but instead changed to a Bachelor of Arts with a major in Psychology, which she completed extramurally while at home in Auckland.
"I really enjoyed psych and wanted to go down the route of clinical psychology," she says. "When you finish that degree, you need to work for the Department of Corrections as part of post-grad, which I did and I was a Probation Officer before starting at the New Zealand Defence Force."
Throughout her psychology career, Toni rode track work every chance she got for Shelley Houston and Shaun Clotworthy, and in the last couple of years was used as a relief rider by trainers at a private training track in Ardmore.
Leaving her job at the Defence Force in April, Toni decided to commit herself to a jumps racing career.
"It was one of the most pivotal moments in my life leaving that job and coming back to riding full time – it was a big risk to take at 34," says Toni.
Pushing her to take the leap was close friend and racehorse trainer, Shelley Houston.
"Shelley is one person who understands how hard my career was, I loved it, but it was really difficult and I was really burnt out at different times. It got to the point where I had to walk away and Shelley was the person who said to me I could make a riding career work."
When Toni left the Defence Force she says it would have been easy to stay at home in Auckland and ride track work on a casual basis.
"My old job was the most challenging thing I'd ever done and every time I took time out I wanted to ride horses, it was my comfort place, and when I finished I thought I'd go and do a bit of riding," she explains. "I could have stayed home in Auckland and rode a bit, but Shelley really pushed me into moving down (to Cambridge) and giving it a go and I'm glad she did."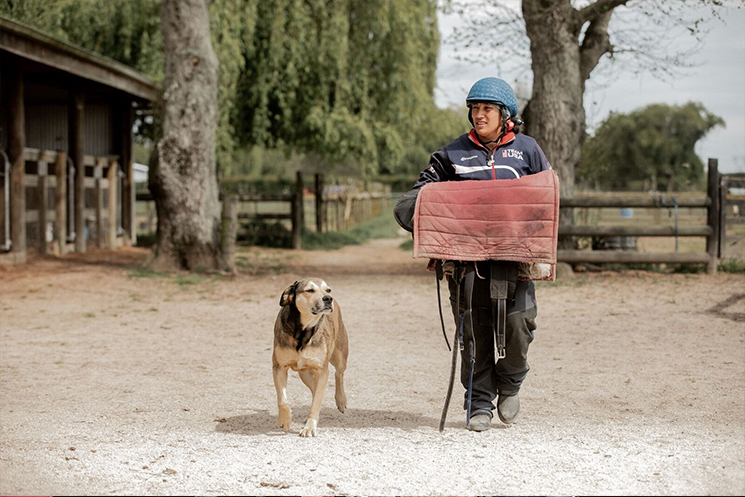 Remembering her ability as a jumps jockey many years earlier, Shelley was keen to encourage Toni to start a riding career.
"She wanted to do it but she was needing the push to take that chance and I remember when she was riding last time that she was very naturally talented over a fence and I said if she wanted to have a go I'd support her as much as I could," says Shelley.
Now, as a full-time rider, the days of an office job are behind her and Toni starts her workday riding for Cambridge trainer, Roger James.
"I've got fit working for him riding a lot of gallops and it's made me work on my versatility riding different horses every day and most importantly my times for my gallops and pacework."
After riding about six horses for Roger, Toni heads to Shelley's stable to ride anywhere between five and 10 horses, and under Shelley's watchful eye, Toni says her riding has come a long way since April.
"I feel like I'm the most prepared three kilo claiming rider out there, Shelley has been an incredible mentor and teacher, her structure, the way she's made me work is unbelievable," she says. "I wouldn't have made it to my first race day ride without her."
Toni's had limited starts but says there were some definite highlights last season. An unforgettable experience was riding Lucky Tonight, a horse Shelley trains, to a second placing at Te Aroha in August.
"Even being on that horse was huge for me as right from the start Shelley said she couldn't always promise me the ride on her horses," says Toni. "But for Lucky Tonight that day I was her first choice, and he is her baby, so for her to give me the opportunity to ride him really showed me the level of faith she has in my riding."
Throughout the jumps season Toni kept physically and mentally fit doing some boxing.
"I missed the fighting and the fitness that goes with Taekwondo," says Toni. "There's a group in Cambridge run by Nigel Elliot and he gets everyone from the track and the jockey club training together. When I realised they had this going on I got started to keep my body and my mind fit."
While Toni wouldn't fight during the season, she has a few fights planned for the next few months.
"I don't want to have a fight during the season, I can't focus on the two sports while I'm learning so much with my riding, but I've told Nigel to keep booking me fights from now until next season starts."
She is also seriously considering the possibility of starting up Taekwondo training again, aiming to make the New Zealand team for the World Championships being held in Germany in April next year.
"I'm cutting it very fine but it's not completely off the table, I'm missing it (Taekwondo) a bit now," she says. "I would have to start training with the high performance team and attend the camps in November to be considered for selection in February."
A firm believer that she can't compete at the top level of Taekwondo while trying to make her way as a jockey, the April timing of the World Championships is ideal, meaning Toni will be ready to focus on winning a race when the jumps season gets underway in May.
"I'd like to win a race! I tried really hard last season and I think I improved race to race and can ride to instructions well now. I can't wait for next season to come around so I can consolidate and build on what I've learnt."
Win or no win, Toni doesn't have a single regret about her new career path.
"I don't think I've ever been this focused on one thing, I've never loved anything that I've done more and I don't why I didn't do it sooner, but I think this was the right time."