Payback for Myers
Taupiri owner-trainer John Morell is finally off the blocks again with his talented filly Florence Jean and fulfilling a promise to jockey Rosie Myers.
Florence Jean will be having her first start since she finished second to Dijon Bleu in the Gr.3 Hawke's Bay Breeders Gold Trail Stakes (1200m) at Hastings a couple of months ago when she resumes in the La Nuova Apparelmaster 1200 at New Plymouth on Friday.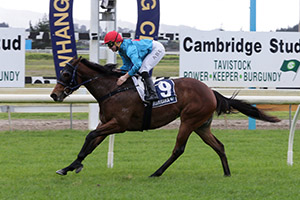 Florence Jean Photo: Trish Dunell Photography
The Pins filly was struck down with a virus after her trip to Hastings and it has taken longer than expected to shake the setback.
"She had it for a while. She was coughing her guts out," Morell said. "She's picked up lately and it was either waiting and going to the trials with her or taking her down for this race. It's better to go around for a bit of money."
The virus and the time off full work will have Florence Jean vulnerable on Saturday.
"She had a couple of real easy weeks, 10 days in the paddock doing nothing, and it's taking a bit to get her fit again," Morell said. "She's a bit fat.
"She'll go a good race, but I'm expecting her to blow out the last 100 metres. She'll definitely improve with the run."
Florence Jean has looked smart winning two of her four starts in most impressive fashion. She won her debut at Ruakaka last January by four and a half lengths and when resuming on the same course last July she blitzed her rivals, scoring by six lengths from the talented Contessa Vanessa.
Alysha Collett was aboard in both her wins and Jonathan Riddell climbed into the saddle in the Gold Trail Stakes, but this time the mount has gone to Myers.
"I thought she would get only about 54 kilos on Saturday and it would have been too light for Jonathan," Morell said. "I owed Rosie a ride so this was an opportunity to put her on.
"Rosie was going to ride her in her first start as a two-year-old at Taranaki but she drew nine out of nine and I scratched her. I promised Rosie a ride again someday."
Florence Jean has been weighted at 56.5kg on Saturday and will meet just five opponents in the Rating 75 event, but her rivals have all shown plenty of talent at times and she is jumping from the outside barrier.
"It's a good field and it should give us a good line on her," Morell said. "Provided she goes well, I'd like to have a crack at the Bonecrusher Stakes over 1400 at Ellerslie with her."
Heading Florence Jean's list of opponents on Saturday is Lady Pinot, a three-race winner who is fresh-up, while the Tina Egan-trained La Bella Rosa will be chasing a hat trick of wins and Regal Winks has suffered just one defeat in three starts.
Morell will also be saddling up debutante Taimanu, an Iffraaj three-year-old, at New Plymouth on Saturday. He was a trials winner at Cambridge earlier this month.
"He surprised us with his trials win," Morell said. "Before that he had to have the stick on him to gallop. He was that laid back.
"He's going to learn a lot on Saturday. If he runs on for fourth or fifth I'll be happy." - NZ Racing Desk