Gingernuts army on the march to Hastings
Te Akau Racing principal David Ellis has confirmed that Saturday's impressive Gr. 1 Windsor ParkPlate winner Gingernuts will return to Hastings in a fortnight to contest the Gr. 1 Livamol Classic.
Ellis made the announcement on TAB Trackside's Weigh In show on Sunday morning less than 24 hours after the Iffraaj four-year- old added a third victory at the highest level to his burgeoning career record.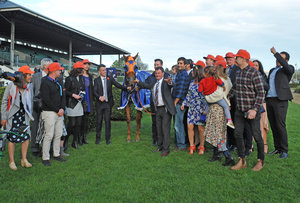 Gingernuts Photo: (Peter Rubery Race Images)
"He's come through the race brilliantly and he will now go forward to the Livamol," said Ellis
"From there it will be on to the Caulfield Cup."
Based on scenes from the victory ceremony at Hastings on the weekend, race fans can expect a sea of orange caps to once again feature prominently amongst the on-course crowds at both venues as the self-styled Gingernuts Army prepares to back their pride and joy.
"There were about twenty five of us on course on Saturday but I expect that number to swell next time as there were quite a few missing for this one," explained syndicate member Blair Alexander.
"We were hopeful rather than confident he could win so a few people decided to wait before committing to being on course to support him so you can guarantee it will be a full house in a fortnight."
Alexander was one of the prime forces in getting the group together to race Ellis' $42,500 Ready To Run Sale purchase and admits it has been the ride of a lifetime to date for the 42 strong group.
"It's been an amazing journey so far and now we are so close to achieving one of the dreams we have had for the horse," he said.
"We turned down some very large offers for him with one of the main reasons being the desire to try and win a race like the Caulfield or Melbourne Cup which is what just about everyone who has ever owned a horse has dreamed of.
"To have that opportunity about to be realised is a little surreal and quite frankly I think most of us are far more nervous now than we were before race like the New Zealand Derby last season."
Alexander has also been overwhelmed by the support for Gingernuts from racing fans on both sides of the Tasman.
"The number of Facebook postings and request for information about the horse is unreal," he said.
"I think he has as many or more people supporting him in Australia as they really seem to love him over there.
"The requests for our special orange caps is also growing so when he hits Hastings and then Caulfield you will definitely know the Gingernuts army is in town." – NZ Racing Desk