Cowan family chase significant win
Kate Cowan gets an opportunity to fulfil a special ambition at Riccarton on Saturday.
The Rangitikei jockey is booked to ride Group One winner Signify in the Canterbury Westland Racing Owners' Association Sprint (1200m), her first ride for her father, Ashburton trainer Snookie Cowan.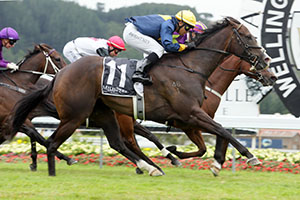 Signify Photo: Trish Dunell Photography
Telegraph winner Signify is raced by Cowan's mum Tracey and the jockey fondly remembers the Perfectly Ready six-year-old gelding joining the stable when she was still living in Ashburton.
"I won't believe it's happening till I'm actually legged up on him on Saturday," Cowan said.
"I'm really excited and actually a bit nervous, but mainly excited. When I wrote down my goals at apprentice school, one of my goals was to win a race on Signify. It's something that would be really special and important to me.
"It might not happen on Saturday but it will happen. My parents don't have many horses and for me to win on him would mean so much to us all."
Cowan will claim a 3kg allowance from Signify's 61.5kg book weight and goes into the race buoyed by an Ashburton trial win in which her mount was kept under a strong hold throughout by Chris Johnson.
"He's quite strong and likes to get on with it. It's important I get him cover and settle him and hold on to him as he can be quite keen, especially fresh," Cowan said.
"He trialled well, did it easy. Dad hasn't said too much yet because he was still undecided if he was going to run him if the track was going to be heavy. But I was talking to Mr [David] Walsh yesterday and he was confident the track would get back to slow.
"If the track is heavy or slow, he might find it difficult but he got through it OK at the trials and the way he trialled, he's a chance. He's a horse that does need everything to go his way."
Cowan, apprenticed to Hunterville trainer Adrian Bull, has won 14 races, including last month's Gr.3 Winter Cup at Riccarton aboard Nashville for Bull and his son, training partner and Cowan's boyfriend, Harry.
"Even if Signify won this weekend, it wouldn't compare to Nashville's Winter Cup. That's my favourite but this would be a close second," Cowan said.
Cowan will look to add to her four wins at her favourite track on Saturday, suggesting that outside Signify her best chances were Disruption and Standrews Masonic. - NZ Racing Desk.