Hale up for the challenge
No horse has ever won the Hawke's Bay weight-for-age triple crown, but Cambridge trainer Shelley Hale is keen to keep the dream alive with upset first leg winner Close Up.
The eight-year-old gelding was an $18 outsider when he won the Gr.1 Tarzino Trophy (1400m) at Hastings three weeks ago under jockey Grant Cooksley, having only gained a start on race morning when connections of Stolen Dance decided to scratch in reaction to the heavy track.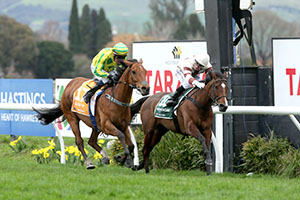 Close Up Photo: Trish Dunell Photography
As a Group One winner, Close Up was assured of a start in Saturday's Gr.1 Windsor Park Plate (1600m) and success would almost certainly spur Hale and her co-owners into making a late entry payment for the Gr.1 Livamol Classic (2040m) at Hastings on October 7.
"We'd definitely have a look," Hale said.
"At nominations time, I thought 1600m might see him out, but if he runs a strong mile on Saturday, we'll definitely consider the last leg. It all depends on how he's hitting the line on Saturday."
Only Starcraft and Seachange have contested the third leg of the triple crown having won the first two legs, with Starcraft outfinished by Balmuse in 2004 and Seachange finishing third in 2006 and fourth in 2007.
Kawi won the first two legs last year, but didn't contest the Livamol Classic, while Jimmy Choux, Wall Street and The Message were others to win two of the three legs.
"He's in pretty good nick. He seems to be every bit as good going into this one as he was before the Tarzino Trophy," Hale said of Close Up.
"He's only had two goes at weight-for-age for a second in the Foxbridge Plate and his Group One win. You can't get much better than that.
"We have a little query with him at the mile, but I don't think it's going to be a problem. He's never got the opportunities over longer trips before because we've tended to give him light preps.
"He's jarred up on firm tracks so we'd always ease up on him. His family have all gone over 2000m so we'd like to think it won't be any issue."
Despite his Tarzino Trophy win, Close Up remains an outsider with TAB bookmakers for the Windsor Park Plate, rated a $15 equal seventh favourite in a market headed by Kawi and Gingernuts at $4.50 and Volpe Veloce at $4.80.
"You've got to be realistic. It's a Group One race and they are blinking hard to win," Hale said.
"But I couldn't be any happier with him. His work this week has been super and he looks a treat. Everything is going 100 per cent with him. I don't get confident for any race, even a maiden, but I know he's in good order."
Hale said she was overwhelmed by the reaction to Close Up's Tarzino Trophy win.
"It's been pretty huge. I've been trying to get back to everyone who sent me a message and over the last couple of weeks I reckon I've talked myself silly," she said.
"Everyone was fantastic. They were quick with their congratulations and well-wishes." - NZ Racing Desk