A bonny night for dual Oaks winner
It was the Bonneval show in Auckland on Sunday night.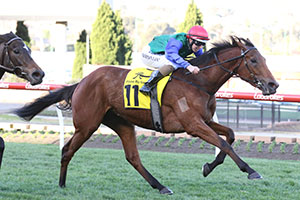 Bonneval winning the Gr. 2 Dato Tan Chin Nam Stakes Photo: Darryl Sherer
The Cambridge galloper dominated the 2017 New Zealand Thoroughbred Horse of the Year Awards.
Bonneval's connections spent much of the night on stage as the dual Oaks winner was voted Horse of the Year, Three-Year-Old of the Year and Stayer of the Year. Her owners were also presented with the New Zealand Bloodstock Filly of the Year trophy.
In addition, Bonneval's trainers, Murray Baker and Andrew Forsman, gained all bar one of the 57 votes cast for Trainer of the Year and Bonneval's dam, Imposingly, was named
Broodmare of the Year.
The prestigious NZTR Contribution to Racing Award went to syndicator and Te Akau Racing principal David Ellis.
The accolades for Bonneval came the day after she began her four-year-old career with a decisive Group II win over 1600m at Moonee Valley. She is now second favourite for the Caulfield Cup and third favourite for the Melbourne Cup.
She is the first three-year-old filly to be named Horse of the Year since Sunline, in 1999 and the fourth successive Horse of the Year winner to be trained by Baker and Forsman, following Dundeel (2014) and Mongolian Khan (2015 & 2016).
Bonneval wearing her Gr. 2 Dato Tan Chin Nam dress rug Photo: Darryl Sherer
Voting for Horse of the Year turned into a three-way battle, though Bonneval won by a comfortable margin, with 27 votes, 12 more than fellow three-year-old Gingernuts. Kawi, the Middle Distance Horse of the Year, gained 10 votes with three for another three-year-old in Jon Snow.
Bonneval had a smaller margin when beating Gingernuts by six votes in the three-year-old category, but dominated the stayers' section with 37 votes, 29 more than Chenille.
A daughter of Makfi, Bonneval was a $150,000 yearling buy for owners Terry Jarvis, Alastair Lawrence and John Rattray and is unbeaten from four starts past 1600m.
She had just seven starts as a three-year-old and got better as the season progressed. She was a luckless third in the Gr.3 Desert Gold Stakes in January before reeling off four successive group wins.
She won the Gr.2 Sir Tristram Classic and Gr.3 Lowland Stakes before becoming the first filly since 1990 to win both the Gr.1 New Zealand and Gr.1 Australian Oaks. She produced one of the standout performances of the season when winning the Australian Oaks by more than four lengths.
She is now being set for the Gr.1 Caulfield and Gr.1 Melbourne Cups and began her four-year-old campaign in the Gr.2 Dato Tan Chin Nam Stakes.
Bonneval Owners (left to right) – John Rattray, Alastair Lawrence and Terry Jarvis discuss Saturday's win with Bonneval's jockey Damian Lane Photo: Darryl Sherer
New Zealand Derby winner Gingernuts had the hard luck story of the night, being runner-up in voting for Horse of the Year, but unable to win an individual category.
Kawi, who won three Group One weight-for-age races during the season, was an almost unanimous choice for the middle distance award and Start Wondering dominated the Sprinter of the Year voting.
Melody Belle was voted Two-Year-Old of the Year by a comfortable margin and Kick Back, who was retired after winning the 2016 Great Northern Steeplechase, was Jumper of the Year.
Chris Johnson, whose premiership win aged 53 provided the feel-good story of the season, was Jockey of the Year and Aaron Kuru followed a premiership win by being named Jumps Jockey of the Year.
Wellington owner Lib Petagna, who races under the JML Bloodstock banner, won the owners' premiership and was voted Owner of the Year for the second successive season.
Petagna had another wonderful year with the likes of Ugo Foscolo, Saracino, Eleonora, Nicoletta, Sofia Rosa and Francaletta. The Australian-trained Group One winner Tivaci also raced in Petagna's colours.
Manawatu's Goodwood Stud, which bred Gingernuts, Nicoletta and Order Again, was named Breeder of the Year. Goodwood is the first central districts-based winner of the breeders' award for more than 20 years.
David Ellis was honoured for a lifetime of achievement in racing when receiving the outstanding contribution award.
Ellis has made a mark as a thoroughbred buyer, owner, syndicator, breeder, administrator and sponsor.
He has been the driving force behind the name Te Akau becoming a global thoroughbred brand and has established premiership winning stables at both Matamata and Singapore.
He has been the leading buyer at the New Zealand national sale for the past 12 years and over that period alone has bought 369 yearlings, at a cost of $64.5 million.
Otaki's Joanne Roylands was the inaugural winner of the NZTR Strapper of the Year Award, which was sponsored by champion Sydney trainer Chris Waller. Roylands had a long association with Otaki trainer Huia Bishop, who died in July.
2017 Horse of the Year: Bonneval (27 votes).
Also: Gingernuts (15), Kawi (10), Jon Snow (3).
NZTR Award for Outstanding Contribution to New Zealand Racing: David Ellis.
Champion Two-Year-Old: Melody Belle (46).
Other finalists: Summer Passage (11), Gold Fever.
Champion Three-Year-Old: Bonneval (30).
Other finalists: Gingernuts (24), Jon Snow (3), La Diosa, Ugo Foscolo.
Champion Sprinter: Start Wondering (50).
Other finalists: Kawi (3), Saracino (3), Signify.
Champion Middle Distance Horse: Kawi (55).
Other finalists: Volkstok'n'barrell (1), Thee Auld Floozie, Willie Cazals.
Champion Stayer: Bonneval (37).
Other finalists: Chenille (8), Gingernuts (6), Jon Snow (3), Chocante (1), Jacksstar, Lizzie L'Amour.
Champion Jumper: Kick Back (36).
Other finalists: Sea King (14), Amanood Lad (4), Ngario (2), Upper Cut (1), D'Llaro, Raisafuasho.
Dunstan Trainer of the Year: Murray Baker & Andrew Forsman (56).
Other finalist: Stephen Autridge & Jamie Richards (1).
Jockey of the Year: Chris Johnson (31).
Other finalists: Opie Bosson (23), Matt Cameron (1), Alysha Collett, Danielle Johnson.
Jumps Jockey of the Year: Aaron Kuru (31).
Other finalists: Shaun Fannin (26), Will Gordon.
Owner of the Year: JML Bloodstock (45).
Other finalists: Hermitage Thoroughbreds (6), Lincoln Farms Bloodstock (1), China Horse Club, Kevin Hickman, NZ Thoroughbred Holdings, Sir Peter Vela, Raffles Dancers (NZ).
Media Award: Trish Dunell, Trish Dunell Photography (32).
Other finalists: Paul Vettise (12), Mat Kermeen (6).
Breeder of the Year: Goodwood Stud (Breeder of Gingernuts, Nicoletta & Order Again).
Other finalists: City Bloodstock, John & Christine Goodon, Richard Moore.
Broodmare of the Year: Imposingly (dam of Bonneval & Imposing Lass).
Other finalists: Double Elle, Star Band.
Strapper of the Year - sponsored by Chris Waller: Joanne Roylands.
Other finalists: Anthony Burton, Masaji Haruki.
Trainers' Premiership: Murray Baker & Andrew Forsman.
Jockeys' Premiership: Chris Johnson .
Apprentices' Premiership: Sam Weatherley.
Owners' Premiership: JML Bloodstock.
Grosvenor Award: (stallion earnings in NZ): Savabeel.
Dewar Trophy: (stallion earnings in New Zealand and Australia): Savabeel.
Centaine Award: (Stallion earnings worldwide): Savabeel.
NZ Bloodstock Filly of the Year: Bonneval.