Henry Dwyer Racing is looking to recruit multiple candidates for both Ballarat and St Leonards training properties.
Limited accommodation is available in Ballarat.
Racing in Victoria is a strong industry and is a great career option for the equine enthusiasts.
The qualities we are looking for in an employee are:
Strong work ethic
Reliable
Horse sense
Ability to work in a team
Ability to work unsupervised
Driver's License
Attend race meetings
The successful applicants can look forward to working with a small inclusive team that is passionate about the horses.
We are flexible with shifts and are more than happy to discuss individual requirements.
Please email [email protected] with your application.
CEO Hawke's Bay Racing Inc.
Located in the beautiful Hawke's Bay New Zealand, Hawke's Bay Racing has earned its place as one of the leading, most progressive and respected clubs in New Zealand.
With 14 race days annually on its own highly rated track, Hawke's Bay Racing also manages the affairs of the Waipukurau Jockey Club and Poverty Bay Turf Club.
Alongside our ongoing commitment to delivering world class racing events we have a vision of being a leader in the provision of entertainment and hospitality services to those within Hawke's Bay and beyond. The future of Hawke's Bay Racing is one of being a highly successful, sustainable and multi-faceted enterprise that delivers wide-reaching benefits to its members and the local community.
We are seeking a Chief Executive Officer who possesses exceptional leadership qualities, has an avid interest in and a keen understanding of Thoroughbred Racing, but most importantly has the attributes to fulfill this vision.
This is a highly visible role, with key duties that include:
Leadership; internally with people and culture, and externally with sponsors, members, NZTR, customers and other key stakeholders
Strategic Development along with the ability to ensure implementation of that strategy.
High competencies in Financial, Operational and Compliance Management
This truly unique and exciting opportunity can bring the rewards of developing and delivering an inspirational future for Hawkes Bay Racing Inc.
A comprehensive Position Description is available immediately on request.
The closing date for applications for this role is Friday 15th July 2022. Please forward your Expression of Interest along with a cover letter and CV to [email protected]
Foal watch attendant
Kitchwin Hills, located just 20 mins from Horse Capital in Scone NSW are seeking an experienced foal watch attendant for the upcoming 2022 foaling season. The role will include monitoring the ongoing wellbeing of both the mare and newborn foal.
The successful applicant will be engaged for a fixed term contract, with the potential for a full-time position post foaling season.
Roster to be a job share arrangement which will be negotiable with the successful applicants.
SKILLS:
Previous foaling experience essential, with knowledge of normal and abnormal foaling positions & ability to foal mares on your own
Knowledge of veterinary procedures
Ability to work efficiently when alone and within a team environment
An understanding and appreciation of OH&S obligations
Organisational and time management skills
Excellent ability to communicate with management and veterinarians
Excellent judgement & decision making skills
Maintain high level of animal welfare
Accurate Record Keeping and timely Reporting
Competitive remuneration package for the right applicant. Start date to be confirmed but applicants must be available from late July 2022.
Please email a cover letter outlining your skills with a copy of your current resume & at least 2 references to [email protected] or call Pauline for further information 0400 082 610.
Starter - Canterbury Region
Thoroughbred Racing Clubs in the Canterbury Racing region seek a motivated and responsible person for the position of Raceday and Trials Starter.
The position will report to the Racing Club Manager and be employed by the Club conducting the Raceday or Trials meeting.
The role is a casual position requiring the need to work approximately 39 Racedays and 19 Trials meetings with travel to the venues a necessity. These events are on a variety of days of the week throughout the year. The number of events can vary.
The position requires a variety of skills including management of a team of people, racing, horse and equine related skills, and an ability to understand the working mechanics of the starting gates.
Knowledge of the New Zealand Thoroughbred Racing Rules of Racing, the Starters Manual and all relevant raceday regulations, routines and procedures is necessary.
Applications for the position close at 12 noon on Monday 9 May 2022 and should be addressed to [email protected] subject STARTER or in writing to: Starter, P O Box 11137, Sockburn, CHRISTCHURCH 8443
Jobs Available Now!

Racehorse trainers require staff to work at their thoroughbred stables. Positions are available on a part-time or full-time basis. Confidence with horses is a must but prior work experience is not always necessary.

Stables are spread throughout the country with the major centres being in the Waikato, Bay of Plenty, Manawatu and Canterbury.

There is a real demand for those who can ride competently – particularly prior experience riding trackwork with a current trackwork licence. You may even be interested in taking up an apprenticeship to be a jockey!

On the job training is provided and there are formal qualifications available for those interested. Accommodation can also be available at some facilities.
Please contact
[email protected]
with your details if you are interested in a career in this wonderful industry.

Senior Management Role - Stud Farm
For more than 20 years, Westbury Stud has been known as one of NZ's leading Thoroughbred operations. Our commitment to rearing the best racehorses is first and foremost at Westbury Stud, aptly summed up by our company philosophy of Passion, Dedication, and Reward.
Due to the restructuring of the Westbury operation over the past six months, we have a vacancy available in our Senior Management team at Karaka. We are offering the successful applicant the opportunity to join a progressive and motivated group of people at a world-class property. The successful applicant will report directly to the Head of Operations.
The key tasks for this role are:
Overseeing the day-to-day care of bloodstock, ensuring the highest industry standards are applied to the bloodstock's care, safety, and well-being.
Lead the preparation of bloodstock for all sales, including the preparation plans for each horse, the organisation of each team, and assist with the recruitment of appropriate sales and prep staff.
Lead and develop several varied teams and team leaders/managers across the farm.
Maintaining up to date administration records on all horses, veterinary cases and comprehensive herd health databases.
Oversee and allocate resources accordingly to ensure all aspects of stud routines are covered, including the handling of foals, weanlings, yearlings, stallions and broodmares.
Teach and upskill staff - how to handle horses, lead, groom and care for the animals, following the Westbury standards and protocols.
Monitoring the growth and development of young stock.
Managing and working with the HOO or Team Leaders on feed regimes for horses, including altering feeds as appropriate.
Maintaining animal health records, treating minor injuries and oversight of more serious conditions in consultation with Veterinarians.
Greeting clients and updating them on their horses or providing information they request.
Overseeing all areas of the farm to ensure they are kept in an orderly manner.
Actively buy into the team and culture and work closely with the HOO on continuous improvement of all areas.
Maintaining a high level of Health & Safety in all areas of the farm.
The skills and attributes that would contribute to your success in this role:
Excellent horse skills covering stallions, broodmares, yearlings and weanlings with a broad knowledge of stock in general.
Veterinary knowledge of common horse ailments and the ability to monitor sick/injured animals' progress without constant veterinary supervision.
Exceptional ability in planning and organisation.
Proven staff management, development and training.
Strong leadership and influencing skills.
Proven ability to drive a team forward to achieve the desired goals of the business.
Ability to manage conflicts using emotional intelligence and create a win/win situation.
The ability to demonstrate flexibility within the diverse responsibilities that the role requires.
Exceptional communication and interpersonal skills where staff care and experience are one of the core aspects of the role.
You will thrive in a busy environment and undertake whatever is needed in the business's best interests.
Have a strong work ethic.
Have the ability to work under pressure.
Have the ability to work well in a large, diverse team.
Problem solver.
Able to explain and delegate tasks in a responsible manner.
The successful applicant will have a passion for providing the utmost care, training and preparation of our stock with the adaptability to work across all facets of the Stud. Your enthusiasm, attention to detail, and strong work ethic will see you lead, motivate, and inspire your team. A minimum of 10 years in a senior stud position is required.
Please send your CV and cover letter to [email protected].
To fast track your application please complete Westbury's online application form through this link https://westburystud.typeform.com/to/W3H8Ue
New Zealand Thoroughbred Racing (NZTR) is the regulatory and governing authority for the sport of thoroughbred racing in NZ. We are tasked with ensuring the overall health and successful development of the sport across New Zealand, seeking to enhance its attraction to customers, and its position in the sporting and cultural landscape of the country.
We are seeking a General Counsel to join the NZTR Executive team. They will provide balanced legal advice to ensure accurate interpretation and compliance with the new Racing Act and NZTR's other legal obligations. As a self-starter, our General Counsel will demonstrate high levels of motivation, and work closely with other team members to enable the delivery of the key strategic projects across our multi-faceted operation.
The successful applicant will have 8+ years post-qualification experience, ideally in commercial law with some public law exposure, and will hold a practising certificate. They will possess an excellent eye for detail and interpretation skills, with a professional, and 'make it happen' approach. We work in a fast paced environment going through a period of transformational change, and this role will be critical in influencing, and driving the change agenda.
Your high level of business acumen along with a passion for (and/or experience in) Thoroughbred Racing, wagering or sports administration would be highly advantageous and would see you hit the ground running!
Above all, this role is about building trusted relationships and being a sounding board to the CEO and Board on all aspects of compliance, regulatory and governance matters.
If you have stamina and the energy for growth as we build a sustainable industry and sport, and you have the right credentials, we want to talk to you.
A full Position Description is available on request, only people with the right to work in NZ can be considered, all expressions of interest and applications should be sent to [email protected]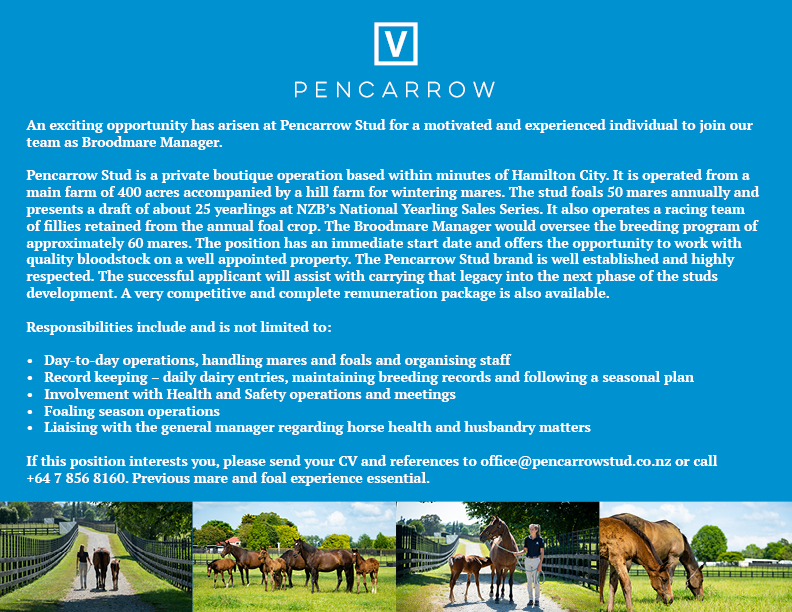 Track Manager - Ōtaki-Māori Racing Club
Great opportunity for an experienced Track Manager to join our team.
Are you passionate about horse racing and turf/track management?
Are you an experienced Groundsman or Turf/Track Manager wanting to take the next step in your career?
Do you want to enjoy an outdoor lifestyle in a great part of New Zealand?
We have a unique opening for a Track Manager to join our small, dedicated team in Ōtaki. This role will suit an experienced person who is passionate about the horse racing industry and track maintenance and is ready to take the next step forward in their career.
About the role:
As part of our team you will be responsible for managing and maintaining the highest standards of track and training surfaces and their surroundings to meet contract specifications. It's a "hands on" role, supported by a small but dedicated team and positive management.
A varied and interesting role, you will work closely with clients and key stakeholders to achieve quality outcomes on the ground.
A mechanical aptitude in the use of tractors and turf/track related equipment is essential.
The success factors:
You will be passionate about horse tracks (and sport) have energy to burn and be self-driven.
Ideally you will hold or be working towards a Level 4 New Zealand Sports Track Management qualification or equivalent.
Previous experience working with and managing turf or track surfaces including experience operating a variety of maintenance and renovation equipment.
A strong work ethic with a can-do attitude goes with-out saying.
Have effective communication skills to liaise with key stakeholders, clients and interest groups.
Strong attention to detail and organisational skills
The ability to work autonomously and be a team player is important as at times you may work with others in the team to support with a diverse range of operations.
Here's what we can offer you:
A competitive salary that is reviewed annually.
A company vehicle.
A wealth of knowledge and experience within the company to support your professional development.
Opportunities for internal and external training.
Promotional opportunities for advancement within the industry throughout New Zealand.
Be part of a unique, whānau orientated, company which cares about their people.
To take your career to the next level, click
here
to complete your application.
New Zealand residency and a current full driver's licence are essential.
Stallion Handler – Karaka
Westbury Stud is a renowned New Zealand thoroughbred stud farm with six commercial stallions, a significant breeding operation of over 300 mares and prepares the annual yearling crop for major sales throughout Australasia.
Westbury offers the opportunity to work in world class facilities and to be part of a supportive and motivated team who are focused on breeding superior racehorses, while the opportunity for growth and professional advancement at Westbury are plentiful.
Westbury Stud are currently seeking a Stallion Handler at the farm based in Karaka.
The main responsibilities of this role include:
Handling of six commercial thoroughbred stallions
Parading stallions for breeders
Handling stallions and broodmares in the covering shed
Teasing mares
Caring for an extensive broodmare band
General stable duties including feeding, mucking out, holding for the farrier and dentist etc
Administering medical treatments
Other general stud duties include:
Handling of foals, weanlings and yearlings
Preparation of yearlings for the major sales throughout Australasia
Other general stable and farm duties as required by the manager
We can accommodate applicants for an immediate start or those looking for work at the beginning of the breeding season. This role requires the successful applicant to have a strong work ethic, have the ability to work under pressure, and have the ability to work well in a large diverse team who relishes the challenges the role may present and is passionate about the thoroughbred industry.
Please send your CV of
no more than two pages
with a cover letter outlining your relevant experience to
[email protected]
.
Due to the current border closures, only those currently living in New Zealand with the right to work here will be considered for this position.
Stablehand position
Keen to be a part of team Wexford? We are on the hunt for a superstar stablehand to join our small team based at Matamata Racecourse.
Working with our lovely team of horses, duties will include feeding and grooming horses, and other general stable duties. This position does not require you to ride (although we'd certainly love to hear from you if a trackwork position is of interest!).
Ideal applicants will have experience working with horses (racing preferred but not essential), be a team player and love horses. The role will require you to work six mornings a week, with afternoon and weekend work also available should you wish.
Accommodation is available for the right person.
Due to the current situation with Covid-19, we are only able to accept applications from people who hold the rights to work in New Zealand (work visa, resident or citizens) and are currently in New Zealand.
Please express interest by emailing [email protected], detailing your experience.
HORSE TRUCK DRIVERS REQUIRED
AUCKLAND, WAIKATO, CHRISTCHURCH & INVERCARGILL BASED
CLASS 2, 4 or 5 license- Experienced horse people without a truck license will also be considered.
Full Time & Part Time positions available. Casual position available in Invercargill.
To be suitable for this role applicants MUST have previous experience working with horses!
Majestic Horse Floats has been established since 1938 and is New Zealand's leading provider of transport to the equine industry. To ensure our national market leading presence we are developing the size and scope of our driving teams around the country.
Ideally you come from within our industry and have a flexible can-do attitude as no two days are the same and we operate 7 days per week. Your geographical knowledge and customer leading focus set you apart from others you work with. We have a fleet of 33 trucks around the country and there is interisland and overnight travel expected.
Some of our staff have been with us for over 40 years, here is what they enjoy about the job:
Nationwide travel- get to see the beautiful NZ countryside
Getting out and meeting a variety of people
Transporting a huge variety of horses -from family ponies to successful racehorses
Variety- No two days are ever the same!
We deal with a variety of horses some of which may be young or haven't been handled much, you must have the skills and patience necessary to load these horses safely. If you are a skilled and passionate horseman/woman but you don't have a truck license, we would still like to hear from you!
To express interest, please contact:
Ward Austin (CEO)
[email protected] or 09-236-1315
Mark Jones (Waikato & Central Districts Transport Manager)
[email protected] or 07-827-5028
Christchurch and Invercargill Position:
Leanne File (South Island Transport Manager)
[email protected] or 03-342-5320

Applicants for this position should have NZ residency or a valid NZ work visa.
Industry Role Advertising
We welcome thoroughbred racing industry role advertisements on this page - if you have a role that supports the breeding or racing of thoroughbreds, please get in touch with us via details below.
Contact: Mary Burgess, Corporate Communications & Media Advisor