Career Profiles
Industry Training and Development Profiles

Despite coming from a non-horsey family, Jessica Allen always had a keen interest in horses from a young age, taking riding lessons and getting her first pony at age 10. Dabbling in a bit of show jumping and eventing, she began riding sporthorses for Erana Shattock and Jeremy Whale who both encouraged her to get involved in the racing industry.
"I didn't like school and left to work full time in a racing stable as soon as I got NCEA level 1," Jessica said.
Working for Emma-lee and David Browne, with their support she gained the Equine Industry Training's Level 3 National Certificate in Equine (Stable Procedures).
A qualification targeted at people involved with horses in supervised roles as thoroughbred racing stable assistants and track work riders, the Certificate course covers the skills needed for the care of the horse and saddlery, preparing the horse for travel, exercise, handling, feeding as well as learning about horse health issues.
The qualification and experience she gained has helped Jessica get her foot in the door of the racing industry, opening her up to a number of new opportunities she believes will help in any future endeavours.
"It's helped me get a foot in the door with New Zealand Thoroughbred Racing. Matt Barnsley still keeps in touch and gets me to help out with Ride to Time events," she said.
That childhood passion for horses and her subsequent study now sees Jessica working as a freelance track work rider.
"I really love learning how to handle young horses and ride trackwork, and I am working with and learning from lots of different trainers and riders," she said.
In addition to riding trackwork Jessica also takes every opportunity to help out on race day and at trial meetings whenever needed. Like so many in the racing industry she is now able to work in a field she loves.
Natural aptitude with animals and people the key to success according to renowned horse trainer.
Raised on his parent's farm around horses, John Sargent has loved these majestic creatures for as long as he can remember. His successful career in horse training has spanned 30 years and has enabled him to live and travel all over the world.

John believes that the key to working in the horse racing industry is an innate love of animals and excellent people skills.
"If I wasn't a horse trainer, I would be a vet" says John.
John is a big advocate for training and has a number of staff currently enrolled in Equine IT training.
"I think it's important for my staff to take part in training because it means when they move on to another job within the industry, they have that qualification behind them. It's a stamp of approval recognising that they are a highly trained, skilled employee. I believe all my staff should gain something from training, and I hope it increases their engagement and motivation levels."
Equine IT qualifications are NZQA registered and are available for stablehands, stable managers, trackwork riders and apprentice jockeys who are currently employed in the industry. While people usually begin a career in the equine industry as a stable hand, you can progress into almost any area, given the skills, training and drive.
"I think to be successful in this industry you have to possess natural instincts around horses. You must have top-notch people skills as there will be times when you will be under a lot of pressure. It's a fast-paced world so you need to be able to keep up, and get along with everyone."
"You also need to be able to deal with people from all different walks of life, from doctors and lawyers to freezing workers."
Some of John's employees are currently working towards their National Certificate in Equine (Level 4) that you must complete in order to become a licensed jockey in New Zealand. John believes that to be a winning jockey, you need to have a certain level of mental toughness and awareness.
"To be a successful jockey you need to have more than just ability, but the X-Factor. It's all about mental attitude, and a connection with the horse and how they ride."
Receiving the "Dunstan Trainer of the Year" award for the 2011-2012 season at the Horse of the Year Awards was a very proud moment for John, capping off a great season that saw him take home the premiership title and break the record for number of wins in a season with a total of 111. John says he thoroughly loves his job and the continual challenge it presents.
"The thing I enjoy most about my job is the setting a goal for a horse a year before a race then seeing it all come to fruition. Achieving the goals you have set for yourself is very rewarding. It's great seeing the excitement of the owners when their horse crosses the line in first place."
It's hard work but it's so rewarding.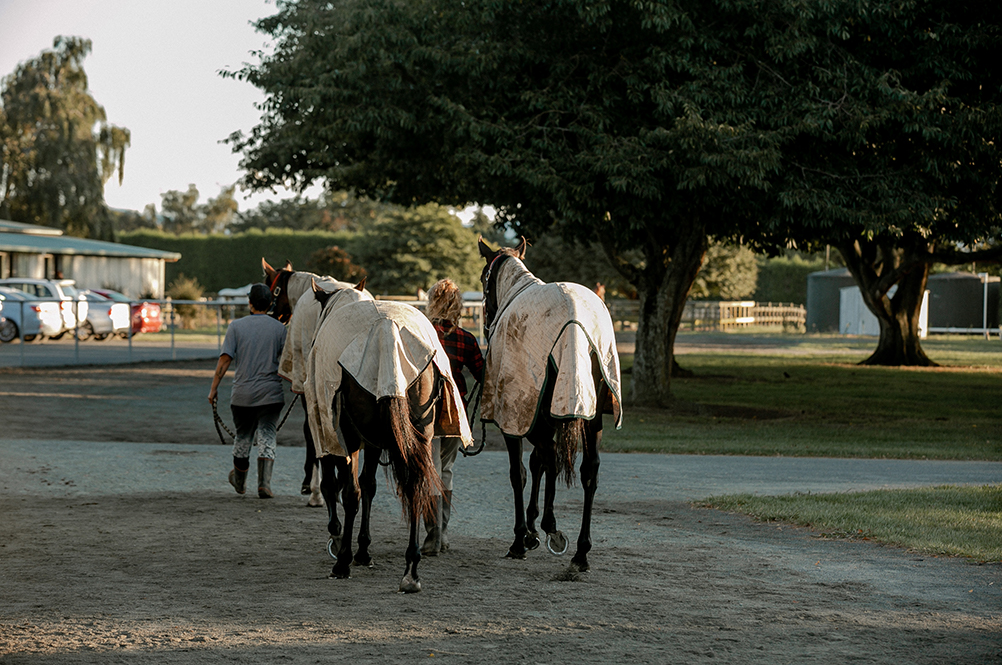 Horses have been a part of Samantha Carse's life for as long as she could remember, getting her first pony at around nine months old and learning how to ride before she could even walk.
As a teen, Samantha began working for Wally Gulliver as a stable hand for an afterschool job.
"I loved it. He was very kind to me and taught me quite a bit and I loved the idea of making a career out of a passion for horses," she said.
Life interfered though and it wasn't until she had been a stay-at-home mum with two kids that Samantha decided to return to the racing industry. This time she began working with Jade Zuppicic of Stratford.
"She taught me so much and gave me the confidence to keep trying, keep riding, and working towards what I wanted," Samantha said,
As her confidence grew, she began riding trackwork for Trudy Keegan who encouraged her to gain the Equine Industry Training's Level 3 National Certificate in Equine (Stable Procedures).
Samantha explained the sign-up process was "so easy."
The qualification is designed for people who are involved with horses in supervised roles and recognises the necessary knowledge and skills needed as thoroughbred racing stable assistants and thoroughbred racing track riders. Participants also study the skills needed for the care of the horse and saddlery, preparing the horse for travel, exercise, handling and feeding as well as learning about horse health issues. It also recognises the generic skills required to communicate in the workplace, manage personal health, finances and knowledge of stress and stress management.
With the support of Trudy, Samantha was able to gain her qualification, "Trudy Keegan has been a huge inspiration to me. She works so hard and treats her horses amazingly."
"Working in the racing industry is exciting. It's hard work but it's so rewarding. Working with horses is such an awesome experience," she said.
"My advice to young people wanting to start a career in racing is to get out there and start watching, ask around the local stables and you may find someone willing to take you on and teach you," Samantha said.
"Listen all you can, there's so many knowledgeable horsemen and women out there and so much to learn. If you are passionate about horses, then working in the racing industry may very well be just the job for you."
Equine training opens eyes to the possibilities
Established in 1955 by Geoff and Peg Chitty, Haunui Farm is one of Australasia's leading thoroughbred nurseries. In 1975, Ron Chitty took up the reins and today, it's Ron's son Mark who is head of the helm at the renowned stud farm situated in Karaka on the outskirts of Auckland.
Having being born into the thoroughbred breeding and racing industry, Mark has always had an affinity with animals.

"I studied veterinary science at Massey University and worked as a general practice vet for 13 years at the Auckland Veterinary Centre in Takinini. Although a predominantly equine practice we offered services in all veterinary fields and I was fortunate enough to work with leading veterinarians Dr Charles Roberts and Dr Andrew Grierson, the current NZ Chief Veterinarian of Racing for both Harness Racing NZ and NZ Thoroughbred Racing."
"Then in 2001 I decided to head the family owned stud farm full time and not focus solely on veterinary science."
With over 30 years' experience Mark is a huge believer in the power of training. Currently two of Mark's ten permanent staff members are working towards their National Certificate in Equine (Breeding) (Level 3) through Equine Industry Training.
At the end of the qualification Mark's staff will have gained a multitude of skills from foaling mares, preparing horses for sale, caring for paddocked horses and keeping a clean and healthy stable environment.
"I believe the future and health of our industry is reliant on young people. There is a lot of opportunity within the entire field but I think there is a perception that a job in the industry just involves mucking out stables and patting horses. This simply isn't true, and training really opens their eyes to the diverse range of roles you can get involved in."
"Following completion of training I have noticed a willingness from staff to want to learn new things. I think sometimes they get caught up in the routine of day to day tasks. My two staff who signed up with Equine IT are actively challenging themselves to become more proficient in roles from foaling mares, to studying pedigrees and understating the role nutrition and management plays in developing thoroughbred. The training gives them the momentum to move forward in the industry."
Mark also believes that training increases staff motivation because it means their boss is supporting them and their career.
"To be a successful and well regarded employee on a stud farm you must have a good honest work ethic and show excellent integrity. Despite qualifications you must be prepared to start at the bottom, and like they say there is no 'i' in team so you must be able to work well in a team environment as well."
Currently it's the middle of the breeding season, and Mark and his team are very busy. It is a time when Mark savours the one of the most
satisfying aspects of his job, which is when mares haven't had a foal for 2 to 3 years for various reasons produce a live healthy foal.
"The foal then has the opportunity go on and develop into a winning racehorse," he says.
With a 100 to 120 day window for foaling and breeding Mark believes ongoing Industry Training will ensure his staff are focused, motivated and have the expertise they need to guarantee Haunui will continue to produce some of the most successful racehorses in Australasia for many years to come.

To enrol or for more information about Equine Industry Training's qualifications, contact your local training adviser on 0800 841 111 or visit www.primaryito.ac.nz